BESSEMER MINE ROAD
BOONE ROAD - Means Lake, Hartwell Hills,
Galloway Dry Lake.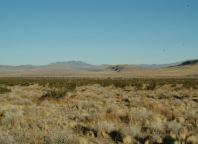 Johnson Valley
Camp anywhere you dare. Established camping
area with primitive sites. Weekends and holidays
you will see lots of RV's with their ATVs, so
with that in consideration, just find a place out
of the way. There are houses scattered about the
valley, but for the most part it is BLM land.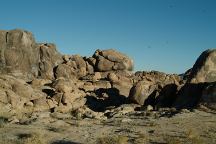 Johnson Valley
Rock formations between Landers and
Boone Road make a nice hideout. Right
beside the road are some funny formations
that make good picnicking or overnight camping.
For more seclusion, you can see rock formations
in the distance spread throughout this part of the
valley.
This is a desert environment and you need to
bring your own water.
DIRECTIONS:
North from Joshua Tree National Park
Hwy.247 between Lucerne Valley and Yucca Valley.