DIRECTIONS:
From Bishop take Hwy.395 north
2 miles past Crestview Rest Area
Across from Crestview Maintenance Station.
Drinking water at Crestview Rest Area
(Hwy.395 south about 1 1/2 mile)
Showers at Reds Meadow Campground.
Showers located in Big Pine.
Buy token at the Mobil Gas Station.
Cost $3.50 for 10 minutes.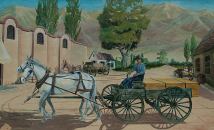 Mural located in Bishop, CA
Wireless Internet connections at several locations
in Bishop or Mommoth.
Also see: ALABAMA HILLS
Also see: BAKER CREEK
Also see: BLACK ROCK RESERVOIR
Also see: BRECKENRIDGE
Also see: BRISTLECONE PINE FOREST
Also see: CROWLEY LAKE
Also see: DEATH VALLEY / SALINE
Also see: DEATH VALLEY / WILDROSE
Also see: GOVERNMENT WASH
Also see: KIRCH FLAT CAMPGROUND
Also see: LAKE ISABELLA
Also see: MONO HOT SPRINGS
Also see: SEQUOIA NF / HWY 190
Also see: SHERMAN PASS ROAD
Also see: TRONA PINNACLES
Also see: WAGON WHEEL
Also see: WALKER PASS
This is a scenic area with crazy landscapes.
From the Mono Lake Basin... Yosemite
National Park, Death Valley National Park,
Ancient Bristlecone Pine Forest, ect... from
Mount Whitney at 14,495' (The highest
mountain in the lower 48 states), to Badwater
Basin, the lowest point at 282' below sea level.
There are extremes everywhere.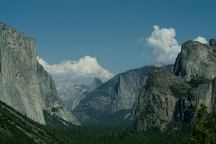 Yosemite National Park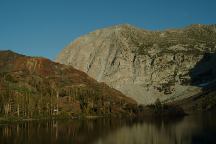 Ellery Lake / Hwy.120 - Elevation 9538'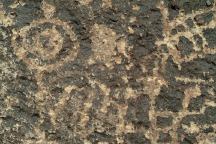 Chidago Canyon Petroglyphs
CHIDAGO CANYON PETROGLYPHS
About 20 miles north from Bishop, CA
Including Chidago Petroglyphs, Red Rock
Petroglyphs, Fish Slough Petroglyphs, and
Chalfant Petroglyphs.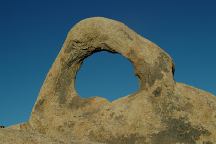 Arch Off Whitney Portal Road
Alabama Hills Recreation Area
ARCHES OF ALABAMA HILLS
There are hundreds of natural arches and
windows throughout the Alabama Hills.
Located west from Lone Pine, CA
CAMPGROUND INDEX
Complete free campground listing


www.eugenecarsey.com
dispersedcampgrounds.com
Free campgrounds and camping
CALIFORNIA CAMPGROUND DIRECTORY
INYO NATIONAL FOREST
SIERRA NEVADA MOUNTAINS
GLASS CREEK CAMPGROUND.