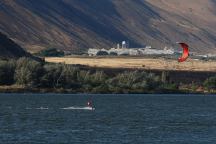 Windsurfers in Columbia Gorge
Also see: 29 PINES CAMPGROUND
Also see: AVERY PARK
Also see: BROADWAY LAVA FIELD
Also see: CLIFFS PARK
Also see: FRENCH GLEN
Also see: GLENWOOD-GOLDENDALE
Also see: HAYSTACK RESERVOIR
Also see: MOUNT SAINT HELENS
Also see: NORTH SHORE ROAD
Also see: OCHOCO NF / COTTONWOOD
Also see: OCHOCO NF / ROAD#16
Also see: OCHOCO NF / ROAD#27
Also see: ROCK CREEK BOAT RAMP
Also see: RUFUS LANDING
Also see: SALT CREEK ROAD
Also see: SKULL HOLLOW
Also see: SUNDALE PARK
Also see: TEANAWAY CAMPGROUND
Also see: WILLIAMS CAMPGROUND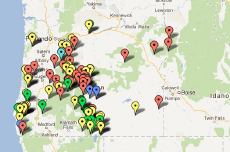 Google Custom Map by Ian
OREGON FREE CAMPGROUND MAP
Google custom map by Ian with most of the
free campgrounds in Oregon.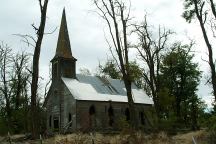 Old Church on Hwy.206 / Milepost 11
About 3 miles north of Wasco, OR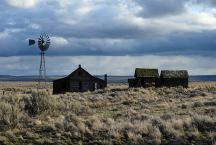 Old Buildings on Haggerty Lane
LATITUDE: N 45°10.239
LONGITUDE: W 120°42.075
South from Kent, OR
Hwy.97 / MP 42-43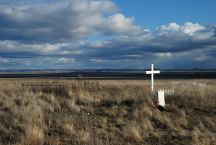 Historic Cemetery
LATITUDE: N 45°09.371
LONGITUDE: W 120°41.211
South from Kent, OR
Hwy.97 / MP 43-44
Most of the dates are from the early 1900's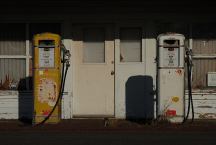 Gas Pumps in Kent, OR
LATITUDE: N 45°11.755
LONGITUDE: W 120°41.773
Hwy.97 / MP 40-41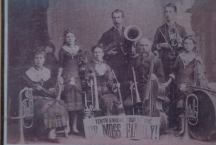 DeMoss Memorial Park on Hwy.197
LATITUDE: 45°30.715
LONGITUDE:120°40.975
Oregon Hwy.97 MP 15
3 miles north from Moro, OR
Vaulted Toilets, Garbage, Picnic,
Water in Season
Historical Structures and Information
PHOTO HERE
Mountain Identifier
LATITUDE: 44°59.440
LONGITUDE:120°50.960
Oregon Hwy.97 MP 62
Mount Rainer, Adams, St.Helens, Hood, Jefferson,
Three Finger Jack, Washington, Three Sisters, and
Broken Top.
PHOTO HERE
Mountain Identifier
LATITUDE: 44°58.938
LONGITUDE:120°59.477
Criterion Summit / Elevation 3360'
Oregon Hwy.197 MP 62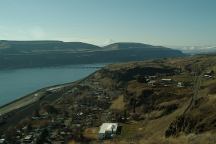 Wishram, WA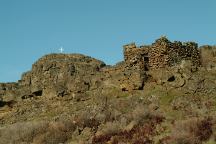 Stone House on Hwy.14 / Milepost 85
Near Horse Thief State Park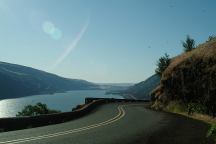 Columbia River Gorge from Hwy.30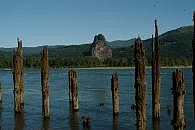 Columbia River Gorge towards Portland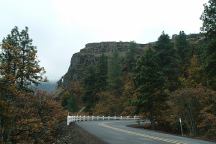 Highway 30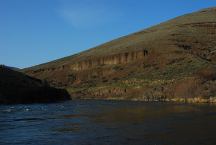 Deschutes River from Buck Hollow
LATITUDE: 45°16.050
LONGITUDE:121°01.135
Highway 216 between Maupin and Grass Valley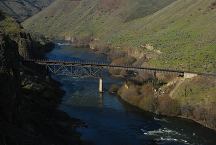 Train Bridge over the Deschutes River
(North from Buckhollow)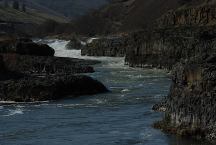 Sherars Bridge
LATITUDE: 45°15.650
LONGITUDE:121°02.250
SHERARS BRIDGE
This area of the Deschutes River has been a river
crossing and fishing location for thousands of years.
Peter Skene Ogden made note of an Indian camp
and bridge when he crossed here in 1826.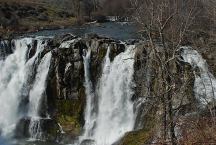 White River Falls SP
LATITUDE: 45°14.600
LONGITUDE:121°05.815
There are a series of waterfalls as the river
snakes it's way through the canyon. From
the viewpoint you only see the main set of
falls, but this is a double waterfall. The lower
pool and falls can be viewed by walking
down the trail a short distance.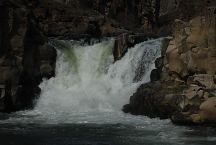 If you walk down past the old powerhouse
there is another waterfall.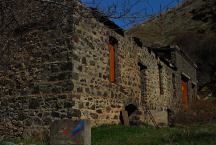 White River Falls Powerhouse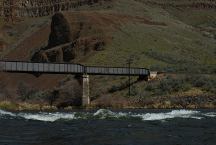 White River Recreation Site
LATITUDE: 45°13.940
LONGITUDE:121°04.050
Confluence of the Deschutes and White Rivers.
Road xx East from Maupin, OR.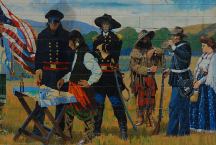 Peace Treaty of 1855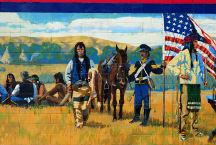 Peace Treaty of 1855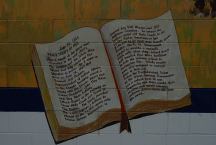 By R.E. Pierce and Don Prechtel
Peace Treaty of 1855
Tum-A-Lum Lumber Company
811 E.2nd
The Dalles, OR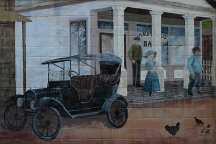 Maupin 1921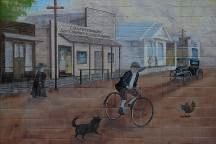 Maupin 1921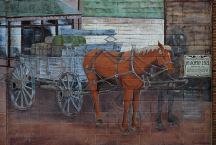 Maupin 1921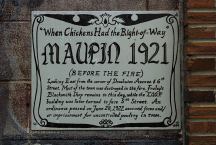 MAUPIN 1921
Mural on side of
Deschutes Angler Fly Shop
Hwy.191 in Maupin, OR
PHOTO HERE
Mural on Maupin Hardware Store
Highway 191 in Maupin, OR
CAMPGROUND INDEX
Complete free campground listing


www.eugenecarsey.com
Camped here several times over the years.
Camped here January 20, 2008
Camped here March 15, 2008
dispersedcampgrounds.com
Free campgrounds and camping
OREGON CAMPGROUND DIRECTORY
COLUMBIA RIVER GORGE SCENIC AREA
RUFUS LANDING