This area is haunted by ghosts!!!
We never saw any, but there are lots of stories
and areas you can feel the negative energy.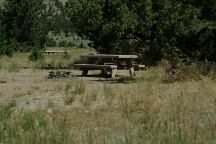 Skull Hollow Campground
Skull Hollow campground is what it is...
14 Day Camping Limit
Completed June 1995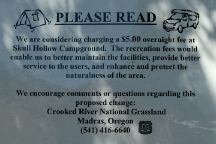 There is a notice that says,
"Considering to charge $5.00 overnight fees"
My advice is make it a donation area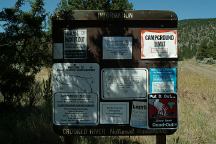 Skull Hollow Campground
Mostly you will see rock climbers camped here.
Smith Rocks is a famous climbing area.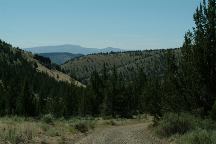 Road#5710 towards Skull Hollow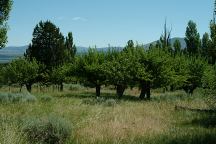 Julius and Sarah McCoin Orchard
JULIUS and SARAH McCOIN ORCHARD
Always knew these trees were not natural
to this area, but just figured out the history.
There is also an old homestead, need to search
around, check old photos, ect... and don't
worry about the spirits of Julius and Sarah,
they welcome all with open arms.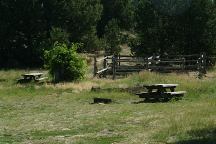 Cyrus Horse Camp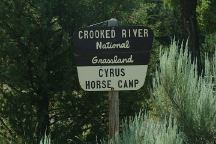 Cyrus Horse Camp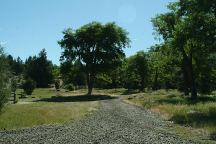 Cyrus Horse Camp
CYRUS HORSE CAMP
In the middle of nowhere...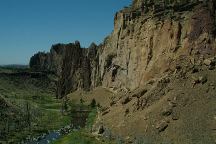 Smith Rock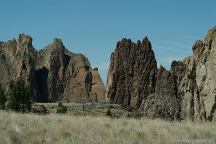 Smith Rock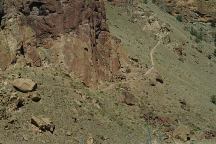 Smith Rock Trail
ESTABLISHED CAMPGROUNDS
SMITH ROCK STATE PARK $4.00
Buvouac Area has tent sites
Day Use $3.00 / Showers $2.00
HAYSTACK LAKE CAMPGROUND $5.00
Free Day Use Area.
Picnic tables, metal fire, outhouses, and garbage.
Shade ramadas. Boat ramps.
IT IS YOUR RESPONSIBILITY TO KNOW
WHAT FIRE RESTRICTIONS ARE IN EFFECT
Axe, shovel, and 5 gallons of water recommended
and might be required. Fire extinguisher and gloves
are a good idea.
When in the area, check out
LAKE BILLY CHINOOK
All campgrounds now charge fees,
but it is worth the time to visit...
Bring a camera.
CYRUS HORSE CAMP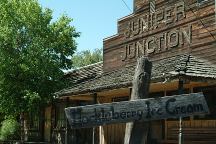 Juniper Junction
The Juniper Junction Store that was famous for
it's Huckleberry Ice Cream is no longer in business.
Located on Crooked River Drive just before
Smith Rock State Park, was like a miracle
out in the middle of nowhere... childhood
memories... now a rock climbing supply store
and Smith Rock Climbing Guides and Instruction.
For incredible views of nine mountain peaks,
go 7 miles north on Hwy.97 from Terrebonne
and turn left/west on Monroe Lane. Take
Monroe Lane about 2 miles... maybe there
are 10 mountain peaks???