Mount St. Helens
Take USFS Road #83 past Ape Cave, towards
Climber's Bivouac or Lahar Viewpoint and
Lava Canyon and almost every pullout leads
to a campsite. You are up and personal with
Mount St. Helens. If you look close at the
photo above, Mount St. Helens is erupting,
sending up a plume of smoke. It was acting
up the last couple weeks, but nothing serious.
PHOTO HERE
Campsite on Road#81
Our campsite was about a 1/4 mile past
Climber's Bivouac on USFS Road #81.
The road to Climber's Bivouac was closed,
so we continued straight and the pavement
soon turned to dirt. Went about 1/8 mile
and found a good spot. The above photo
was taken on this same road, just a short
walk from the camp. The ground is covered
with a layer of ash from when Mount St.
Helens erupted, but the main force of the
blast went the other direction, leaving the
Ape Cave area relatively untouched.
PHOTO HERE
Lava Canyon
Just before Lava Canyon there were several
campsites. Maybe not the best camping in the
world, but if exploring the Mount St. Helens
area, they are free and easily accessible, you
are in a forest and the air is clean and fresh.
We did notice almost every camp had some
litter, from styrofoam cups to auto parts.
There were no big messes, just that you
would see a couple pieces of garbage
every stop.
DIRECTIONS:
From I-5 at Exit 21
Take Highway 503 and USFS Road 90,
approximately 36 miles to USFS Road#83.
Follow the signs to Ape Cave, Climber's
Bivouac and Lava Canyon.
ROAD CONDITIONS:
Main roads are paved
Most of the dispersed campsites are on
dirt roads. Reasonably maintained with
some washboards. Winter conditions
include snow...
PHOTO HERE
Parking at Ape Cave
Ape Cave was named by members of an outdoor
group called the Mount St. Helens Apes.
Also see: 29 PINES CAMPGROUND
Also see: AVERY PARK
Also see: CLIFFS PARK
Also see: FRENCH GLEN
Also see: GLENWOOD-GOLDENDALE
Also see: MOUNT SAINT HELENS
Also see: ROCK CREEK BOAT RAMP
Also see: RUFUS LANDING
Also see: SUNDALE PARK
Also see: TEANAWAY CAMPGROUND
Also see: WILLIAMS CAMPGROUND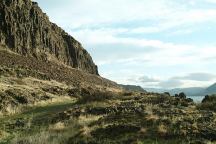 Columbia River from Cliffs Park
CLIFFS PARK
LATITUDE: N 45°42.819
LONGITUDE: W 120°42.718
West on Hwy.14 at the John Day Dam
Road follows the Columbia River for several
miles with dispersed campsites. Incredible
scenery...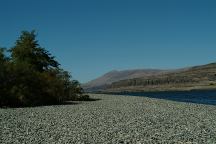 Columbia River Gorge from Rufus Landing
On the Oregon side of the Columbia River
Opposite side of river from Cliffs Park
RUFUS LANDING
LATITUDE: N 45°41.593
LONGITUDE: W 120°45.288
Dispersed and primitive camping on
the Oregon side of the Columbia River
opposite of Cliffs Park.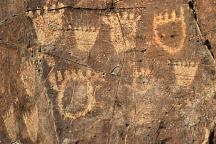 John Day Dam Petroglyphs
Indian Petroglyphs at Cliffs Park
JOHN DAY DAM PETROGLYPHS
LATITUDE: N 45°42.981
LONGITUDE: W 120°42.272
From the fishing platform nearest to
John Day Dam walk along the river
towards the lock. The petroglyphs
are on the cliff face. There are
Bear Paws and other symbols.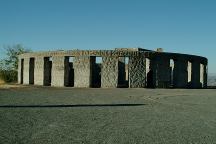 Stonehenge Memorial near Maryhill, WA.
STONEHENGE MEMORIAL
LATITUDE: N 45°41.660
LONGITUDE: W 120°48.380
Hwy.14 east from Maryhill, WA
Stonehenge Memorial is a replica of
the Stonehenge Monument in England...
Built by Samuel Hill as a memorial to
Klickitat County soldiers who lost their
lives in World War One. Construction
was completed in 1929.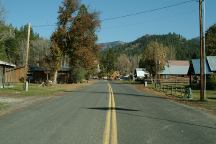 Liberty Site, WA
Near Williams Campground in Washington.
CAMPGROUND INDEX
Complete free campground listing


www.eugenecarsey.com
dispersedcampgrounds.com
Free campgrounds and camping
WASHINGTON CAMPGROUND DIRECTORY
MOUNT ST. HELENS NATIONAL MONUMENT (South)
APE CAVE
CLIMBER'S BIVOUAC
LAHAR VIEWPOINT
LAVA CANYON