Shasta Lake is famous for houseboats.
In years past you used to see them
everywhere on the lake. Water skiing
and boating is very popular.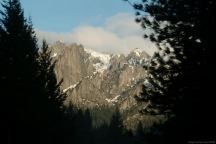 The Crags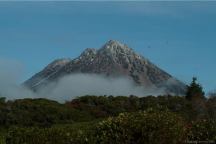 Mount Shasta
DISPERSED CAMPING
Shasta lake has several hundred miles of shoreline
that you are permitted to camp.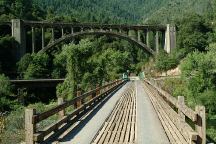 Fenders Ferry Road
(Three bridges in above image)
There is a primitive camp next to the bridge.
About 1/4 mile west from I-5 on Dog Creek Road,
turn on Fenders Ferry Road / 34N17. Cutting down
the canyon to the Upper Sacramento River, Fenders
Ferry Road continues towards McCloud Campground.
It the joins together with Road#27, eventually connecting
to Hwy.299 between Round Mountain and Montgomery
Creek.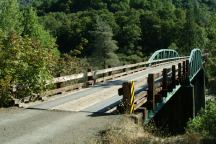 Fenders Ferry Road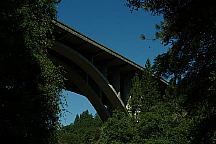 Fenders Ferry Road / Interstate 5 Bridge

Dekkas Rock / Day Use Area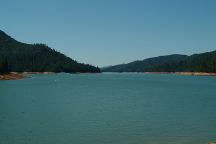 Dekkas Rock / Day Use Area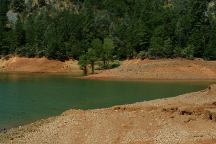 Dekkas Rock / Day Use Area
Dekkas Day Use and Picnic Area
has drinking water and garbage.
6am - 10pm
About xx miles from Jct. of I-5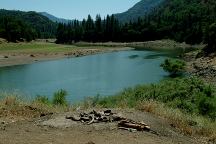 Primitive camp 1/2 mile before McCloud Bridge
This primitive camp is about 1/2 mile before
McCloud Bridge. It is hard to spot, looks like
just a little pullout, but there is a road. The
road is only a couple hundred feet down
the hill. Level parking area.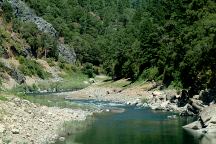 Sacramento River from McCloud Bridge
An 1/2 mile past McCloud Bridge on Fenders
Ferry Road, turn right Road#35N10Y. There
is a nice campsite near the junction.
Road#35N10Y leads down to the shores of
Shasta Lake, but you will need an 4x4 with
good tires and check the weather predictions.
There are several good campsites and firepits.
Camping Limited to 14 Days
Some areas might be posted for 7 Day Limits
Shoreline area use is limited to 14 days per year
Houseboats limited to 30 days per year
Houseboats permits required for longer stays???