LOWER HUNTING CREEK
N 38°48.522
W 122°22.493
Picnic Tables, cement firerings, outhouses,
garbage receptacles, and shade ramadas.
14 Day Camping Limit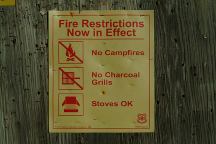 Fire Restrictions (July 2007)
IT IS YOUR RESPONSIBILITY TO KNOW
WHAT FIRE RESTRICTIONS ARE IN EFFECT
California Fire Permits Required. When dispersed
camping a shovel, ax and 5 gallons of water
are required. A fire extinguisher and leather gloves
are recommended.
Hunting and target practice
No shooting in the camp area
PHOTO HERE
Old mailbox at turn to Knoxville Rec.Area
N 38°49.484
W 122°21.296
KNOXVILLE PUBLIC LANDS
This is the north section of Knoxville Rec.Area
N 38°51.671
W 122°24.697
North Trailhead 1 mile
Shooting Area 1 1/2 mile
PHOTO HERE
Lake Berryessa
DIRECTIONS:
From Napa, CA
Take Hwy. 121 towards Lake Berryessa
Take xx north about 31 miles
From Winters, CA
From I-505 take Hwy.128 west
Take xx north about 31 miles
From Hwy.20 / Clear Lake
Take Hwy 53 to Lower Lake
Take xx about 13.5 miles
(Knoxville Public Lands)
ROAD CONDITIONS:
Roads could be impassable during high water
ELEVATION: Around 1500'
WILDLIFE:
Some of the wildlife we saw included
a pair of golden eagles, deer, quail, and
more...