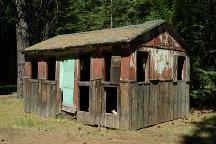 Old buildings at Slagger Camp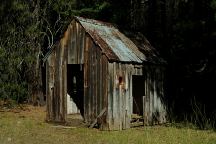 Old buildings at Slagger Camp
Slagger Camp is like an old Ghost Town
There are three abandoned buildings.
Your imagination explodes... there is
a look and feel about this place.
---
Not sure of dates or historical background.
Maybe the buildings are around 100 years???
There is evidence of more recent use, including
a flush toilet???
---

Road at Slagger Camp
PHOTO HERE
Primitive Camp and Firering
There is a main firering and primitive camp.
Signs mark the "Designated Fire Use Area"
No Services or Facilities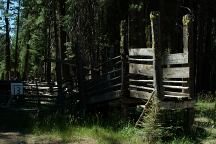 Corral at Slagger Camp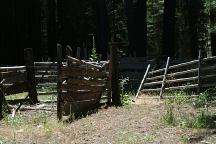 Corral at Slagger Camp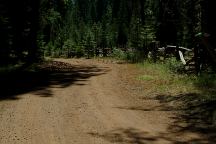 Corral at Slagger Camp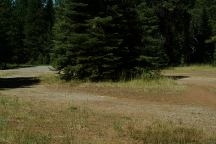 Road at the old Corral
There are a couple dispersed camps in the area.
On the opposite side of Road#15 is an old corral
and more primitive campsites.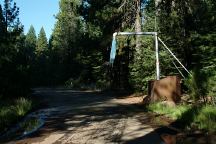 Water pump on Road#15 near Slagger Camp
Near the water pump is another primitive camp.
We parked the car under the water and washed
off all the dust, when a couple old ladies pulled
up. They stripped naked and started taking a shower.
No insult to the ladies, but we didn't need to see that.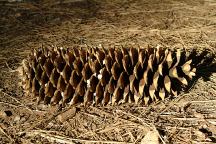 There are some Sugar Pine Cones in the area.
Measurement: 14"L
IT IS YOUR RESPONSIBILITY TO KNOW
WHAT FIRE RESTRICTIONS ARE IN EFFECT
California Fire Permit Required
BEAR FACTS
We saw a dead bear on the Hwy.89.
The bears are shy of humans and will usually
run away, but don't take any chances.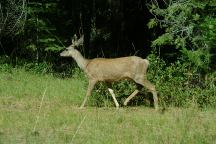 Deer at Slagger Camp
WILDLIFE:
Deer are everywhere... about every half hour
another group would walk through our camp,
They would approach to within 20'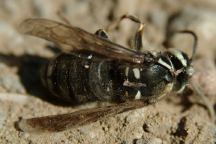 He refused to mind his own business.
The insects were out in force.
Bees, wasps, and flies are the main cast of characters.
There are a couple butterflies making the rounds.