Views of Mount Shasta.
There are limited camping areas.
Beautiful emerald green color water...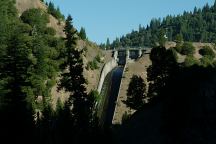 McCloud Reservoir Dam
N 41°07.887
W 122°04.251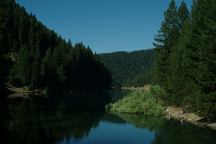 Star City Creek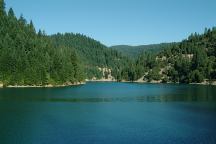 View from Star City Creek
STAR CITY CREEK
N 41°09.287
W 122°04.124
From McCloud Reservoir Dam take Road#
This is an old paved road that is broken apart
There are a couple campsites along the water.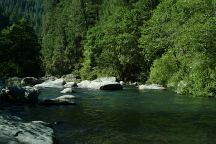 Ash Camp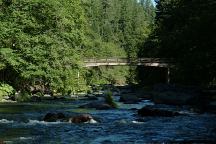 Ash Camp
ASH CAMP
N 41°07.039
W 122°03.649
About a mile south of McCloud Reservoir Dam
Turn on Road#38N11H.
Tent Camping and popular area with fishermen.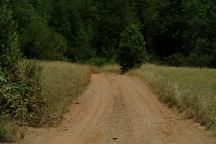 Ah-Di-Na Campground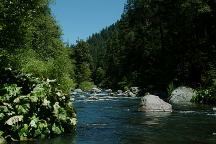 Ah-Di-Na Campground
AH-DI-NA CAMPGROUND $8.00
N 41°06.588
W 122°05.959
FS Road xx
Six miles rough dirt roads with steep grades.
Picnic tables, metal firerings, outhouse, and water.
LAKE MCCLOUD BOAT LAUNCHING FACILITY
Fee Area / Forest Pass Required
IT IS YOUR RESPONSIBILITY TO KNOW
WHAT FIRE RESTRICTIONS ARE IN EFFECT
BEAR FACTS
We saw a bear on the road to Deadlun C.G.
He was big and healthy. The bears are shy of humans
and will usually run away, but don't take any chances
WILDLIFE:
There were deer in the campground.