The temperature in Lake Isabella was 94 degrees.
In the Greenhorn Mountains it was around 70 degrees.
HIGHWAY 155
Highway 155 runs between Wofford and Delano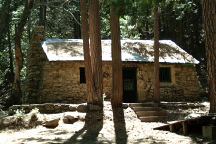 Deuel Cabin
CEDAR CREEK CAMPGROUND
Hwy.155 a couple miles west of Alta Sierra
Road#25S14 (Campsites both sides of Hwy.155)
Cedar Creek flows through the campground.
Picnic tables, metal firerings, and outhouses
Classic campground and design.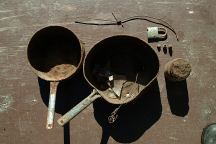 Old cooking utensils and misc.
Found near Cedar Creek
Following Road#25S14 there are some great
campsites. Where the road crosses the creek
you will need a 4-wheel drive. There are some
more camp areas down the road. Deuel Cabin
is just a short walk. See above photo...
RANCHERIA ROAD #22S15
Highway 155 west of Alta Sierra
Turn on Rancheria Road #22S15
Shirley Meadow 2 miles
Evens Flat 8 miles
Bakersfield 49 miles
The first 2 1/2 miles you have panoramic views
of Lake Isabella down in the valley so far away..
We haven't drove the road all the way to Bakersfield.
It is decent enough road, but is a little scary.
Extreme upgrades with loose sand.
Road would be impassible in bad weather.
ALDER CREEK CAMPGROUND
Haven't been here yet...
From Alta Sierra take Rancheria Road #22S15
In 5 miles turn on Rhymes Road #2619
Alder Creek is 6 miles rough narrow dirt roads.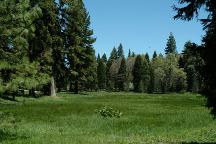 Evens Flat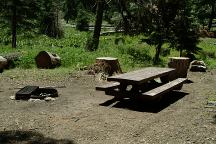 Evens Flat Campground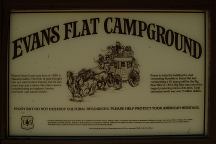 Evens Flat Campground
EVENS FLAT CAMPGROUND
Very nice and relaxing.
Picnic tables, metal firerings, and outhouse
No garbage service
Not so many people out here on the weekdays.
Might avoid summer weekends and holidays
Next to Evens Flat which is a small meadow.
From Alta Sierra take Rancheria Road #22S15 for 8 miles.
Evens Creek is at the junction of Road#22S15 and #26S27
!/2 mile past Sawmill Road
Elevation 6040'
DAVIS CAMP
There are camp areas on both sides of the road
Primitive campground... a couple old firepits.
Some good shade areas to park.
The is an old foundation for a house?
12 miles from Alta Sierra on Rancheria Road #22S15
RHYMES CAMPGROUND
At the junction of Rancheria Road and Rhymes/Alder Road
Just kind of a pull-out along the road???
Elevation 6120'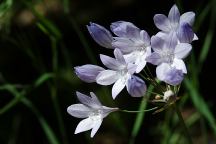 Cedar Creek Flower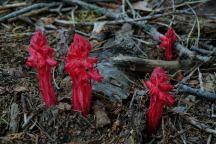 Not from this world...
FIRE RESTRICTIONS!!!
IT IS YOUR RESPONSIBILITY TO KNOW
WHAT FIRE RESTRICTIONS ARE IN EFFECT.
DIRECTIONS:
From Bakersfield
Take Airport Drive north
Going towards Woody
Take Hwy.155 to Alta Sierra
Turn on Rancheria Road #22S15
From Lake Isabella
Take Hwy.155 to Alta Sierra
Turn on Rancheria Road #22S15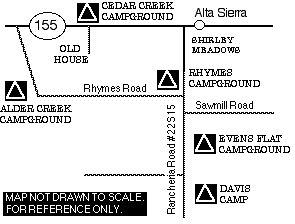 If you examine a real map, there are several
back roads and different directions you could
take. Almost all roads in the Sierra Nevada
Mountains are narrow and winding, with
steep upgrades.
Highway 155 west of Wofford Heights
NOT RECOMMENDED FOR VEHICLES OVER 30'
Don't be surprised to see snow and
extreme ice conditions during winter months.
Scenic views provided by the
Sierra Nevada Mountain Range.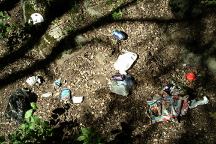 Cedar Creek Garbage
Don't bury your garbage.
Animals will dig it up and what a mess.
In this case, there was garbage spread
for about 1/4 mile downstream.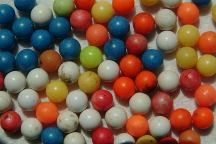 Plastic pellets found all over the ground
We are starting to find these plastic pellets
everywhere. From pellet guns.