DIRECTIONS:
From Powers, OR
Take Road#33 south from Powers
(Towards China Flat and Agness)
Myrtle Grove C.G. is about 8 miles
(Near milepost#55)
From Gold Beach, OR
Take Highway 101 north from town
Before the Historic Bridge over the Rogue River
Turn right on Jerrys Flat Road / Road#33
Continue on Road#33 towards Powers, OR
From Port Orford, OR
Take Hwy.101 south about a mile
Take Elk Creek Road / Road#208
Continue on Road#5325
Between milepost 20-21
Turn on Road#3353 for 21 miles
Turn left on Road#33
Myrtle Grove C.G.is about 3 miles
ROAD CONDITIONS:
From Powers, OR is paved surface
From Port Orford are gravel mountain roads.
From Gold Beach are some rough gravel roads
IT IS YOUR RESPONSIBILITY TO KNOW
WHAT FIRE RESTRICTIONS ARE IN EFFECT
Axe, shovel, and 5 gallons of water recommended
and might be required. Fire extinguisher and gloves
are a good idea.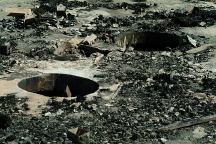 Outhouse on Road#33 towards Agness
Showers at State Park Campgrounds
Showers at Laundry in Florence, OR
$2.00 for 8 minutes
Also see: BURNT MOUNTAIN
Also see: CHINA FLAT
Also see: BUTLER BAR
Also see: EDEN VALLEY
Also see: LAIRD LAKE
Also see: PACKERS CABIN
Also see: PARK CREEK
Also see: ROAD#3358
Also see: ROAD #1108
Also see: SOUTH FORK ROAD
Also see: SQUAW LAKE
Also see: SUNSHINE BAR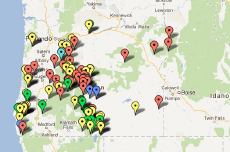 Google Custom Map by Ian
OREGON FREE CAMPGROUND MAP
Google custom map by Ian with most of the
free campgrounds in Oregon.