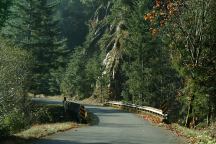 Elk River Road
DIRECTIONS:
From Port Orford, OR
Take Hwy.101 north about 2 mile
Hwy.101 between milepost 297-298
Turn on Elk Creek Road / Road#208
Continue on Road#5325
Between milepost xx.
From Powers. OR
Take Road#33 for 11 miles
(China Flat at junction of Road#3353
and Road#33 between milepost 52-53)
Take Road#3353 for 21 miles
Go right on Road#5325 for 3 1/2 mile
There is a sign for the campground
Take Road#339 about 1/4 mile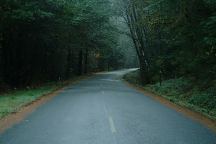 Road#5325
Paved surface from Port Orford, OR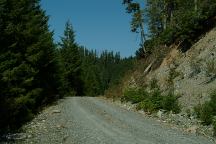 Road#3353 towards Powers, OR
Between China Flat and Butler Bar C.G.
ROAD CONDITIONS:
Paved surfaces from Port Orford to Butler Bar
Then 6 1/2 mile rough gravel road with upgrades.
From Powers is mostly rough, narrow
mountain roads not recommended for RVs.
We have seen boulders in the road
after bad weather conditions
DISTANCE CHART:

Port Orford
Highway 101
Butler Bar Campground
Sunshine Bar Campground
Sixes River Campground
China Flat Campground

26 miles
24 miles
6 miles
9 miles
xx miles (Road#5201)
24 miles (Road#3353)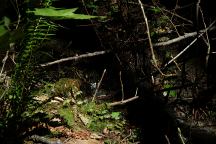 Stream at Laird Lake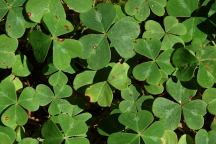 Clovers at Laird Lake
IT IS YOUR RESPONSIBILITY TO KNOW
WHAT FIRE RESTRICTIONS ARE IN EFFECT
Axe, shovel, and 5 gallons of water recommended
and might be required. Fire extinguisher and gloves
are a good idea.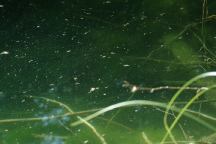 Laird Lake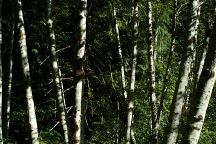 Trees at Laird Lake
Showers at State Park Campgrounds
Showers at Laundry in Florence, OR
$2.00 for 8 minutes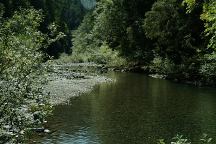 Butler Creek from Butler Bar Campground
BUTLER BAR CAMPGROUND
LATITUDE: N 42°43.518
LONGITUDE: W 124°16.310
About 6 miles west from Laird Lake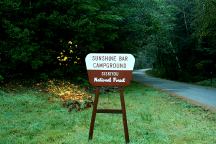 Sunshine Bar Campground
Sign viewed from Road#5325
SUNSHINE BAR CAMPGROUND
LATITUDE: N 42°42.700
LONGITUDE: W 124°18.772
About 9 miles west from Laird Lake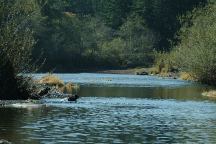 Sixes River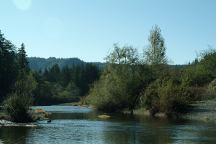 Sixes River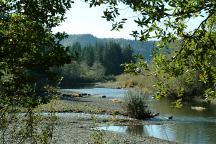 Sixes River
SIXES RIVER RECREATION SITE
LATITUDE: N 42°48.261
LONGITUDE: W 124°18.709
$8.00 Camp Unit Fee
$2.00 Day Use
Road#5201 between Sixes River and
Butler Bar Campground is 22 miles
of some rough, narrow mountain roads.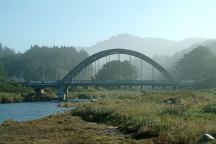 Highway 101 Bridge over xx River
Viewed from Stone Field Beach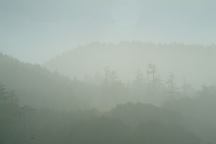 Mist on Mountains
Viewed from Stone Field Beach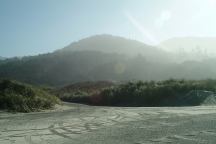 Parking Area at Stone Field Beach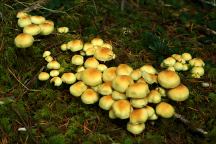 Mushrooms on Road#3680