DIRECTIONS:
From Gold Beach, OR
Take Highway 101 north from town
Before the Historic Bridge over the Rogue River
Turn right on Jerrys Flat Road / Road#33
Continue on Road#33 for 47 miles
Turn right on Road#3348
Camp at the Junction of Rd#3348 and Rd#3358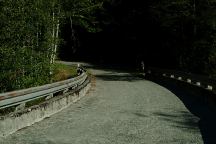 Road#3358 Bridge
At junction of Road#3348 and Road#3358
Campsite other side of the Bridge
From Powers, OR
Take Road#33 to Road#3348
There are signs marking the direction
See above directions from this point.
??? From I-5 take the exit to Riddle.
Continue on Cow Creek Road to
West Fork Road #32-8-1.1 which
turns into Walker Prairie Road 31-9-35.
Continue on Walker Prairie Road
Take a right at the junction of 32-8-31,
which turns into FS Road #3348.
Keep going towards Powers and
you'll find the campgrounds.
ROAD CONDITIONS:
Mostly paved surfaces...
Camp is small and not recommended for RV's
There are other dispersed campsites in the
vicinity that are better suited for large vehicles.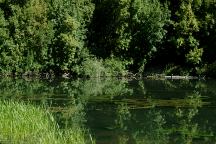 Squaw Lake
SQUAW LAKE
Kind of romantic. An established campground
with picnic tables, metal firerings, and outhouse.
It is an easy 1 mile drive from the paved road.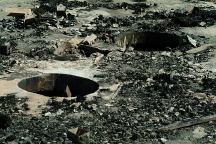 Outhouse on Road#33 towards Powers, OR
Showers at State Park Campgrounds
Showers at Laundry in Florence, OR
$2.00 for 8 minutes

The Rogue River - a Fish Superhighway
The Rogue River is one of the Pacific Northwest's most
productive rivers for fish. It has more than 1,300 miles of
fish spawning streams in it's 5,160 square mile watershed.
Also see: BURNT MOUNTAIN
Also see: CHINA FLAT
Also see: BUTLER BAR
Also see: EDEN VALLEY
Also see: LAIRD LAKE
Also see: PACKERS CABIN
Also see: PARK CREEK
Also see: ROAD #1108
Also see: SOUTH FORK ROAD
Also see: SQUAW LAKE
Also see: SUNSHINE BAR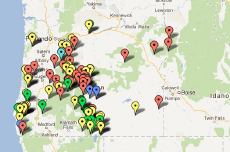 Google Custom Map by Ian
OREGON FREE CAMPGROUND MAP
Google custom map by Ian with most of the
free campgrounds in Oregon.