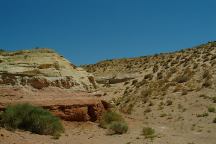 Goblin Valley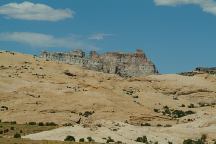 Goblin Valley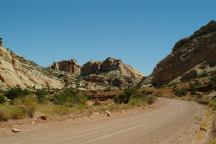 Road towards free camp areas
Sandstone rocks that have been carved
by the weather make interesting views.
You could hear a hawk screeching from
the cliff face above. You will see very
few cars or people out here.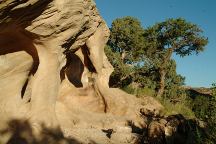 Arches/windows in the sandstone
This was our camp with natural arches
along the base of the towering cliffs.
There were firepits and good places
to set up a tent. There is an outhouse
about a 1/4 mile up the road and a
parking area if you have a RV.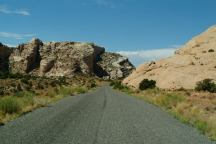 Goblin State Park
We have camped out here with friends
and they still talk about it.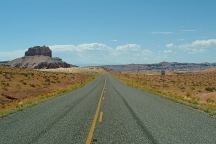 Goblin State Park
Goblin State Park was voted the best
place to take magic mushrooms. I don't
have any urge to do such drugs and at
this place you don't need them to pretend
your on another world.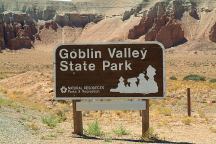 Goblin Valley State Park
Goblin State Park is a fee area, but there are
good primitive camping areas in Goblin Valley.
DIRECTIONS:
Hwy 24 towards Goblin State Park.
Instead of turning right to Goblin State Park,
keep going towards the split in the big rocks.
You can also come in from the north.
Take exit 129 on I-70 and follow Frontage Road.
About 2 miles is a sign pointing to Goblin Valley.
It is about 20 miles of dirt road with great views
Not recommended in bad weather and we have
seen this road with flood damage.
ROAD CONDITIONS:
Hwy.24 to Goblin State Park is paved surface
Dirt road towards dispersed campsites.
Easy access from this direction.
There are old mines you want to avoid.
The sign will tell the story of explosives
and radon gas that could be a danger to
human health.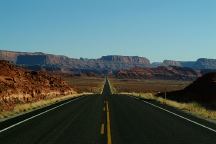 Glen Canyon and Hwy.95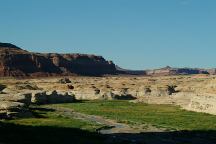 Glen Canyon from Hwy.95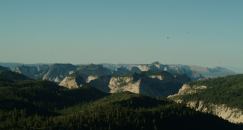 Lava Point Views
Also see: BONELLI LANDING
Also see: CASTLE ROCK
Also see: CATHEDRAL VALLEY
Also see: CORAL PINK SAND DUNES
Also see: DEATH VALLEY / SALINE
Also see: DEATH VALLEY / WILDROSE
Also see: GLEN CANYON
Also see: GOBLIN VALLEY
Also see: GOVERNMENT WASH
Also see: GOOSENECKS STATE PARK
Also see: GREG'S HIDEOUT
Also see: KOLOB RESERVOIR
Also see: LAVA POINT CAMPGROUND
Also see: MEADOW VALLEY
Also see: MESA ROAD
Also see: MOJAVE DESERT
Also see: VALLEY OF THE GODS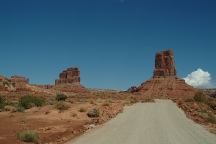 Valley of the Gods
CAMPGROUND INDEX
Complete free campground listing
Camped here 2004


www.eugenecarsey.com
dispersedcampgrounds.com
Free campgrounds and camping
UTAH CAMPGROUND DIRECTORY
GOBLIN VALLEY