This is the actual view from the campground.
To capture the image, had to take several photos
and paste them together.
Goosenecks State Park has an established
campground with picnic tables, vaulted toilet
and firerings. This is a good place.
PHOTO HERE
Dispersed campsites with picnic tables
Dispersed campsites on the canyon rim.
The campground isn't that impressive,
but there are magic spirits here and add
the views for a great experience.
PHOTO HERE
Shade Ramada
When it was raining we have seen people
lay out their sleeping bags on the tables
at the shade ramada.
PHOTO HERE
Information Signs at Goosenecks State Park
Usually there are a couple other people
camping, but it was never crowded when
we stayed here. It could get crowded and
every year seems to be more people...
We camped here a couple times before
figuring out the goosenecks... can you
see them.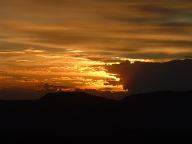 Sunset at Goosenecks State Park
DIRECTIONS:
Hwy 163 a couple miles east of Mexican Hat...
(Signs point towards Goosenecks State Park)
Take Hwy.261 north a couple miles
Hwy.316 west to Goosenecks State Park
ROAD CONDITIONS:
Paved road to Goosenecks State Park
The camp area is gravel and rock surface
Easy access to the main parking area
If driving the road along the canyon rim,
you will need good tires and shock absorbers.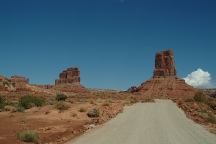 Valley of the Gods
VALLEY OF THE GODS
Only a short distance from Goosenecks State
Park is Valley of the Gods. It is recommended
to make the time and drive the Loop Road
through Valley of the Gods.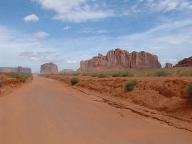 Monument Valley Navajo Park
Be sure to visit Monument Valley Navajo Park,
Famous photographs that never seemed real will
become reality and you will forever remember.
(Located in Arizona about an hours drive from
Goosenecks State Park.)