PHOTO HERE
This is our personal camp on Road#4672
Continue another 1/4 mile on Road#4672
and there is a small, but cozy little camp.
At the bottom of hill, there is a stream and
spur road about 100 yards in length. The
parking area is only big enough for a small
or mid-sized vehicle with no turnarounds.
Less people on this road...
MILEAGE CHART FROM:
JUNCTION of ROAD#46 and ROAD#4670

Detroit
Estacada

Apx. 29 miles
Apx. 40 miles
ROAD#4671
There are several streams with camping areas
along Road#4671.
Milepost 1-2 there is a good camp with an extra
large and well designed firering. Limited parking.
Somebody made a broom from branches. It swept
the dirt better than a store bought broom.
Milepost 2 at Fawn Creek is a very primitive camp.
Just after milepost 2 is a road to the left that ends
at Fawn Creek. Firepit is in the middle of the road.
Milepost 5.5 at the junction of Road#4672
Good camping area along the creek.
High clearance vehicle recommended.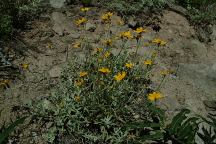 Wildflowers along Road#4670 - June 30, 2006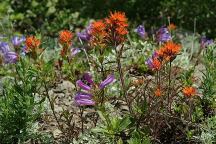 Wildflowers along Road#4670 - June 30, 2006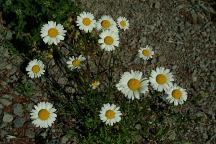 Wildflowers along Road#4670 - June 30, 2006

Flowers and colors everywhere...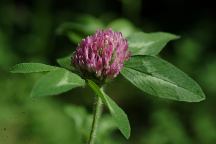 More color added to the landscape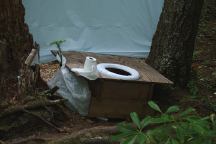 Bathroom facilities (Next to the river)
Somebody built their own little outhouse.
The problem is... they built it next to the
river. Next time build it at least 200' from
any water source, including lakes, steams,
and springs.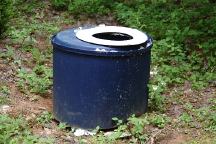 Bathroom facilities... away from the river.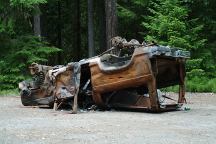 Burned vehicle on Road#4670 - July 2006
Burned vehicles are common sights in
the last couple years. In 2005 we saw
several burned vehicles on Road#63.
Presume they were stolen and stripped
of parts, then burned any evidence....