Campsites all along the road.
Road #63 is about 7 miles paved,
then turns to a maintained dirt surface..
There are several good camp areas.
LITTLE FAN CAMPGROUND



Little Fan Campground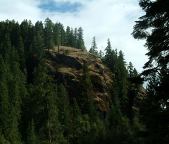 Little Fan Campground
Little Fan Campground is about 4 miles.
Picnic tables, metal firerings and outhouse.
Designed as a tent site. Right on the river
with great scenery... tranquility...
On Road #63 just before the Junction of
Road #70, there are a couple good spots.
On the opposite side of Road#63 from
Road#70 there are some spur roads.
About 1/2 dozen camps hidden in the
trees along the river's bank.
ROAD #70
As you drive up Road #63, you will see Road #70.
It goes towards Bagby Hot Springs Trailhead. There
are some camps on the way to Bagby Hot Springs
Bagby Hot Springs is apx.1 mile walk from the trailhead.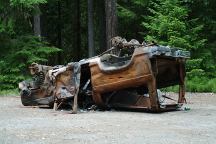 Burned vehicle on Road#4670
Burned vehicles are common sights in
the last couple years. In 2005 we saw
several burned vehicles on Road#63.
Presume they were stolen and stripped
of parts, then burning any evidence....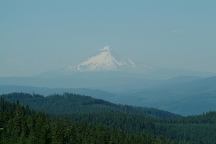 Mount Hood from Road#6350
Mount Hood is the tallest peak in Oregon
11,239'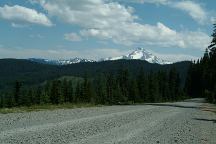 Mount Jefferson from Road#6350
Mount Jefferson is the second tallest peak
in Oregon 10,497'
TWO RIVERS PICNIC AREA $5.00
Garbage service, near the junction of Road#46