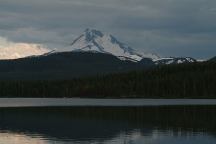 Lake Olallie with Mount Jefferson in background
Sky Line Road / Road#4220 offers some
spectacular views. Olallie Lake with Mount
Jefferson towering in the background is
about as good as it gets... then a bald eagle
soars across the horizon.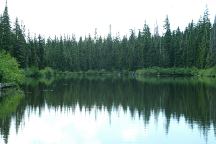 Road#4220 Mountain Lake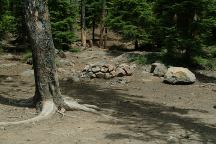 Road#4220 Mountain Lake Camp
There are several mountain lakes and streams,
lava flows and rock slides, meadows, and even
marshes that were probably created by beavers.
Limited cars on Skyline Road / Road#4220
as it winds and twist through the Cascade Mountains
in Mount Hood National Forest. There are some
rough parts not maintained for passenger vehicles.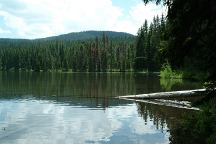 Horseshoe Lake?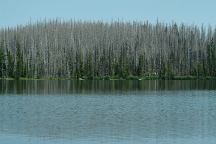 Horseshoe Lake? Burn Area
Roadside campsites around Olallie Lake
and Olallie Scenic Area. Continue towards
Horseshoe Lake and there are good camp
areas everywhere.
Beware of mosquitoes and possible fleas.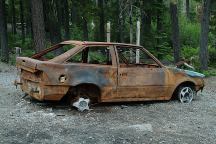 Burned vehicle at Olallie Lake - July 2006
Burned vehicles are common sights in
the last couple years. In 2005 we saw
several burned vehicles on Road#63.
Presume they were stolen and stripped
of parts, then burned any evidence....
Another burned car on Road#4670
ESTABLISHED CAMPGROUNDS
Olallie Lake and Olallie Scenic Area has several
established campgrounds that charge a fee.
OLALLIE MEADOWS $10
LOWER LAKE CAMPGROUND $10
PAUL DENNIS CAMPGROUND
CAMP TEN Fee area
Didn't see a fee box or receipts
PENINSULA CAMPGROUND $10
There are good campsites on Road#4690
From Road#46 go 3.5 miles and there is
a narrow bridge. Camps on both sides of
the stream
MILEAGE CHART FROM:
JUNCTION of ROAD#4220 and ROAD#4690

(Unimproved Route)
Highway 26
(Improved Route via Road#4690)
Highway 26
Detroit
Estacada

Olallie Lake


29 miles

42 miles
31 miles
52 miles

5 miles
HIGHWAY 224
Highway 224 begins just outside of Portland
and is 50 miles in length, passing through
Estacada ending at Ripplebrook. The road
then changes name to Road#46 and is about
43 more miles to Detroit.
ROAD#46
Highway 224 turns into Road#46
Apx. 26 miles west of Estacada near
Ripplebrook G.S. at milepost 50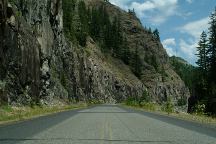 Road#63
ROAD#63
Bagby Hot Springs Trailhead
and Little Fan Campground.
40 miles north of Detroit.
30 miles south of Estacada.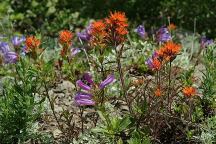 Wildflowers along Road#4670 - June 30, 2006
ROAD#4670
(Road#46 near milepost 29)
Take Road#4670 about 1/4 mile and
before the bridge there is a great camp.
Somebody hand built a classic style bench.
The river fills the air with natural music.
Continue across the bridge and to the right
are more camp areas.
DIRECTIONS:
From Portland take I-205 South
Exit on Hwy.224 towards Estacada
(Estacada is at milepost 24)
Continue 39 miles and turn left on Road#42
Skyline Road / Road#4220 is about 4.5 miles
From Portland take Hwy.26 east
Turn about 10 miles past Government Camp
(Towards Timothy Lake and Olallie Lake)
From Detroit
Turn on Road#46
(Just before the bridge west of town)
The sign says National Forest Road #46.
Skyline Road / Road#4220 is about 17 miles
DIRECTIONS FOR PASSENGER CAR
From Detroit take Road#46
Turn on Road#4690
(23 miles from junction of #46)
Take Road#4690 for 7 miles
(6 miles paved / 1 mile gravel)
Turn right on Skyline Road / Road#4220
Olallie Lake is about 6 miles
Horseshoe Lake is about 7 miles
Showers at Detroit Lake State Park.
Cost $2.00
Best water at Humbug Campground
(4 miles from Junction of Hwy.22)
Natural mountain spring on Road#4670
A couple hundred yards from the junction
of Road#46. The water is clean and refreshing.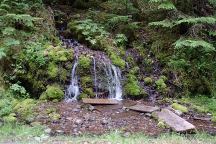 Natural Mountain Spring on Road#4670
Also see: GREEN PETER LAKE
Also see: HIGHWAY 224
Also see: ROAD#46
Also see: ROAD#4670
Also see: ROAD #63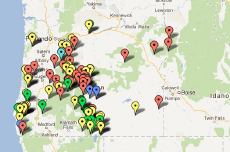 Google Custom Map by Ian
OREGON FREE CAMPGROUND MAP
Google custom map by Ian with most of the
free campgrounds in Oregon.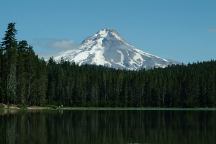 Frog Lake and Mount Hood
Highway 26
CAMPGROUND INDEX
Complete free campground listing


www.eugenecarsey.com
dispersedcampgrounds.com
Free camping and campgrounds
OREGON CAMPGROUND DIRECTORY
MOUNT HOOD NATIONAL FOREST
OLALLIE LAKE and HORSESHOE LAKE
SKYLINE ROAD / ROAD#4220
Dispersed and Primitive Camping