For an escape from the crowds, then
Road#25 / Saddleback Loop is perfect.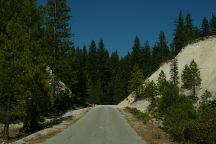 Road#25 Eureka Diggings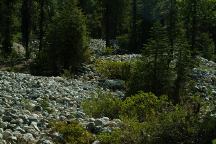 Eureka Diggings
EUREKA DIGGINGS
Eureka Diggings looks like a bizarre work
of Mother Nature, but it really the result of
hydraulic mining operations. We like this place,
even it represents complete destruction.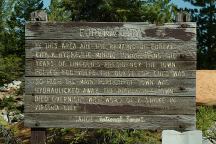 EUREKA CITY
In this area are the remains of Eureka
City. A hydraulic mining town during the
years of Lincoln's presidency, the town
polled 800 votes. The quest for gold was
so high, the main portion of town was
hydraulicked away. The rich little town
died overnight with word of a strike in
Virginia City.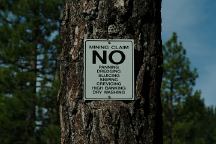 Mining Claim
Most camps are mining claims. There are
warnings that no prospecting allowed, but
nothing about trespassing or camping.
Presume it is open to public use, just
no mineral collecting or related activities.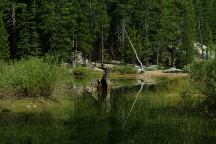 Lake at Eureka Diggings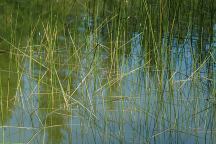 Lake at Eureka Diggings
The lakes were created by the hydraulic
mining operations. Drainage was a major
problem and one of the reasons hydraulic
mining was banned..
OLD MILL CREEK
At milepost 20 (Road#25)
Good primitive campsites
SNOW CREEK ROAD#2518
Nice camp...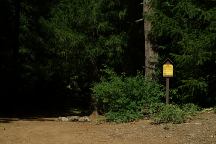 Road#35 at Cherokee Creek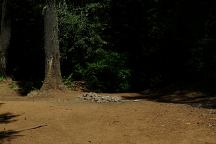 Road#35 at Cherokee Creek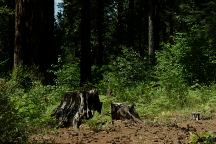 Road#35 at Cherokee Creek
ROAD#35
There are some nice campsites.
Paved roads and easy access.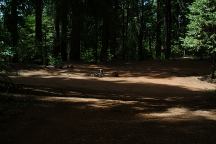 Road#491 Campsite
ROAD#491
Campsite on Road#491 about 1/4 mile.
Towards Brandy City from Cal-Ida
If you continue past this campsite, the
road gets rough. 4x4 recommended.
DEVILS POSTPILE
No photos or information at this time.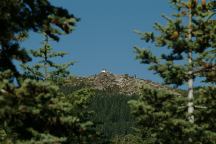 Saddleback Lookout
IT IS YOUR RESPONSIBILITY TO KNOW
WHAT FIRE RESTRICTIONS ARE IN EFFECT
Each year is more stricter and the danger increased.
When FIRE RESTRICTIONS are in effect,
it is mandatory to have water, shovel and ax.
As an extra precaution bring a fire extinguisher
A good pair of leather gloves recommended.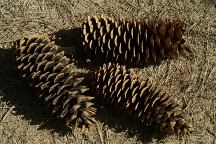 Sugar Pine Cones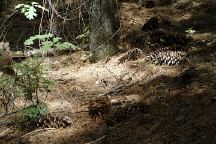 Sugar Pine Cones
ESTABLISHED CAMPGROUNDS
CAL-IDA CAMPGROUND $18.00
CARLTON CAMPGROUND
FIDDLE CREEK CAMPGROUND
INDIAN VALLEY CAMPGROUND
ROCKY REST CAMPGROUND
RAMSHORN CAMPGROUND
COMPLETE LIST
This is a list of all the campgrounds
in the Tahoe National Forest