Mountain lakes and scenery of the
Sierra Nevada Mountains...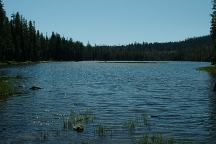 Haven Lake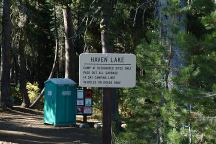 Haven Lake
Camping only in designated
campgrounds and campsites.
GOOSE LAKE
Free campground
Garbage, portable toilets...
HAVEN LAKE
Free campground
Portable toilet... 3 sites
This was our first campsite in the Sierra
Nevada Mountains... many years ago.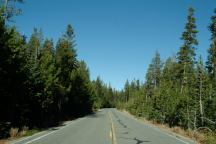 Road#24 near Haven Lake
In recent years this area is more crowded
with people.
GOLD LAKE
LITTLE GOLD LAKE
SQUAW LAKE
FRAZIER FALLS
Outhouse, picnic area.
It is a 1/2 mile walk to the Frazier Falls.
It is worth it... we used to camp here back
in the day...
IT IS YOUR RESPONSIBILITY TO KNOW
WHAT FIRE RESTRICTIONS ARE IN EFFECT
Each year is more stricter and the danger increased.
When FIRE RESTRICTIONS are in effect,
it is mandatory to have water, shovel and ax.
As an extra precaution bring a fire extinguisher.
SNAG LAKE CAMPGROUND
Just south from Lakes Basin in Tahoe NF
(Boarder of Plumas an Tahoe National Forest)
Good free campground... but avoid summer
weekends.
ESTABLISHED CAMPGROUNDS
LAKE BASIN CAMPGROUND $14.00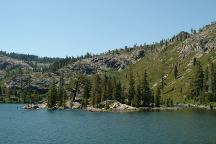 Salmon Lake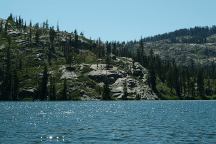 Salmon Lake
SALMON CREEK CAMPGROUND $18.00
Tahoe National Forest
Sign reads "Rules Strictly Enforced"
SARDINE LAKE CAMPGROUND $18.00
LOGANVILLE CAMPGROUND $18.00
Hwy.49 (7 miles west from Jct. of Road#49)
INDIAN VALLEY CAMPGROUND $18.00
Hwy.49