This campsite is located on Road#120,
at the bridge crossing over the xx River.
There are campsites located on both
sides of the road.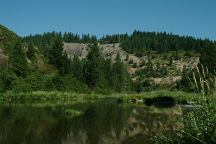 River from the campsite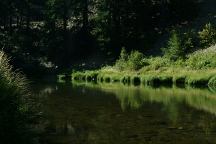 River from the campsite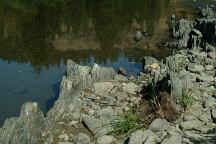 River from the campsite

Information sign at campsite
If you click on image and enlarge it,
you will see the Plague Warning on
the Information sign.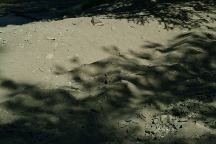 Sand bar where we got stuck
No photos of the car, because it was night
and we got towed early the next morning. Before
digging most of the sand out of the way, the sand
bar was about 2 feet higher.
We have been everywhere we shouldn't be,
and this was the first place we got stuck,
buried the car to the bumpers in sand.
It looked like a campsite.... but as luck
would have it, the only other person
around was a retired tow truck driver
with 300' of tow ropes. Didn't even
have to ask for his help... he was more
on top of the situation than us...
IT IS YOUR RESPONSIBILITY TO KNOW
WHAT FIRE RESTRICTIONS ARE IN EFFECT
Each year is more stricter and the danger increased.
When FIRE RESTRICTIONS are in effect,
it is mandatory to have water, shovel and ax.
As an extra precaution bring a fire extinguisher.
There are some primitive campsites near
Delahunty Lake on Road#900. There are
some mining claims, so don't start digging
or panning. If you hear what sounds like
a live band and big party, it is just the
Methodist Church. You can see Delahunty
Lake through the trees, but is mostly private
lands and organizational camps.
ESTABLISHED CAMPGROUNDS
Plumas NF Power Project Campgrounds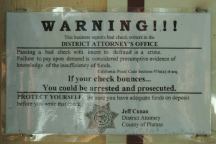 A little paranoid or is this were the criminals stay...
You are the one getting robbed at $18.00 per night.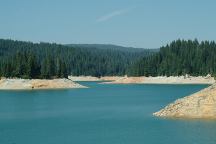 From Sly Creek Dam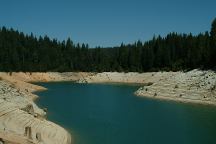 Sly Creek Reservoir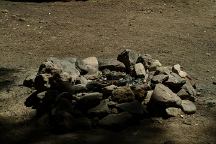 Primitive campsite past Strawberry Campground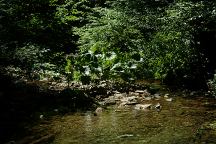 Primitive campsite past Strawberry Campground
There are some primitive camps past
Strawberry Campground, but not sure
what the regulations are. Something about
camping allowed only in established camp-
grounds.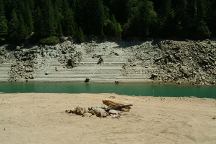 Primitive campsite past Strawberry Campground
About 1/4 mile after the pavement ends, there
is a great campsite on the banks of Sly Creek
Reservoir. There is a little spur road to the left,
that is about a 100 yards down to the site,
but it is rough, with some serious ruts.
A passenger car can make it, but you are at risk...
SLY CREEK CAMPGROUND $18.00
STRAWBERRY CAMPGROUND $18.00
Water smells bad and rust color
LITTLE GRASS CAMPGROUND
BLACK ROCK CAMPGROUND
PENINSULA CAMPGROUND
WYANDOTTE CAMPGROUND
TOOM BAY CAMPGROUND
LITTLE BEAVER CAMPGROUND
RED FEATHER CAMPGROUND $18.00
RUNNING DEER CAMPGROUND
HORSE CAMP CAMPGROUND