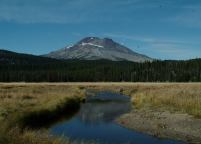 View from Soda Creek Campground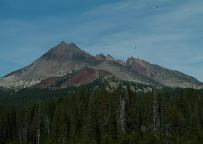 View from Soda Creek Campground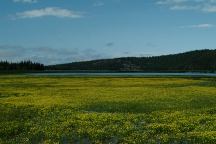 Sparks Lake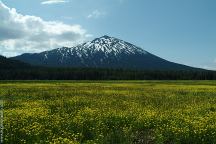 Mountain flowers and Mount Bachelor
Mountain views include Broken Top,
Three Sisters, and Mount Bachelor.

Camp on the road towards the boat launch.
Above dispersed camp is exactly 1 mile
towards Sparks Lake Boat Launch.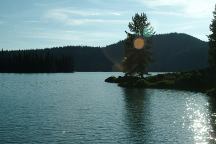 View from the above camp
The boat launch is about 1 1/2 miles of rough
dirt road and is a fee area, NW Forest Pass
or National Parks Pass accepted. There are
some great mountain views.
SPARKS LAKE FACTS
Elevation 5428'
Approximately 250 acres
Maximum depth 8'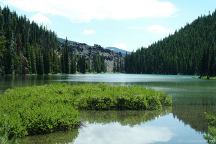 Devils Garden from Devils Lake Campground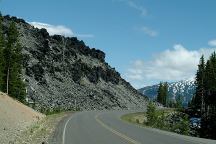 Devils Garden from Cascade Lakes Highway
(Between milepost 27-28)
DEVILS LAKE CAMPGROUND
Between milepost 28-29
Devils Lake Campground has a couple primitive
tent sites. Recreation Pass required for parking.
TODD LAKE CAMPGROUND
1/8 mile walk / Tent sites
Is it possible that this campground is voided?
There are so many people these days and the
sign in the parking area says "Day Use Only"
DIRECTIONS:
From Bend take Cascade Lakes Highway.
It is 26 miles to Sparks Lake
Near milepost 26 / Between Mount Bachelor and
Elk Lake, you will see the sign for Sparks Lake.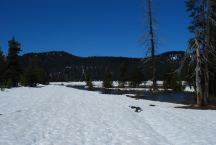 Soda Creek Campground still covered with snow
June 7, 2010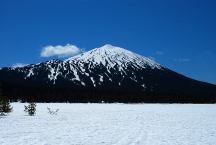 Soda Creek Campground still covered with snow
June 7, 2010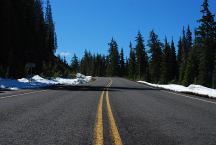 Century Drive between Sparks Lake and Mount Bachelor
Snow on ground June 7, 2010
ROAD CONDITIONS:
Paved roads to Soda Creek Campground.
Rough dirt road towards the boat launch.
Snow in winter months...
MAP
These are our personal hand drawn maps
Not guaranteed for accuracy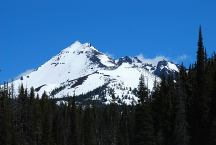 View from Soda Creek Campground
June 7, 2010
Cascade Lakes Highway / Road#46 is also
known as Century Drive. It used to be paved
with red cinders... as were several of the roads
in the Cascade Lakes and surrounding areas. A
couple trailhead roads are still original pavement.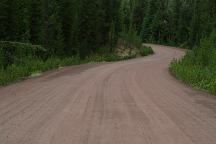 Road to Elk Lake Trailhead
Showers at Crane Prairie Reservoir Lodge
$1.25 in quarters for 3 minutes.
Showers and Laundry at Twin Lakes Lodge.
Drinking water at Beach Picnic Area
Best water at Rock Creek Campground
on Cascade Lakes Highway / FS Road#46
(Next to the fish cleaning station)
Camped here July 5, 2006
Elk and deer walked through the camp...
Camped here September 3, 2008
ESTABLISHED CAMPGROUNDS
ELK LAKE CAMPGROUND
$10 Regular / $12 Premium
(Milepost 32-33)
POINT CAMPGROUND
$10 Regular / $12 Premium
(Milepost 33-34)
HOSMER LAKE CAMPGROUND $6.00
Elk Lake Loop / Road#4625
LITTLE FAWN CAMPGROUND $8.00
Elk Lake Loop / Road#4625