DIRECTIONS:
From Road#42
Turn on Road #4285
(Browns Mountain Junction / Crane Prairie Dam)
Go past and Browns Mountain Boat Ramp and
there are some roads to the right leading to some
good campsites along Crane Prairie Reservoir.
From Road#46 / Cascade Lakes Highway
1 mile north from the Jct. of Road#46 and #42.
It is unmarked from this direction.
(Near Milepost 51)
ROAD CONDITIONS:
Rough gravel surface
Spur roads to campsites are narrow dirt surface
Not recommended for RVs
MAP (Crane Prairie)
MAP (Cascade Lakes Highway)
These are our personal hand drawn maps
Not guaranteed for accuracy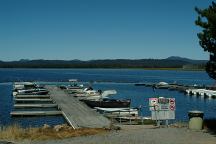 Boat Ramp at Crane Prairie Resort
Showers at Crane Prairie Reservoir Lodge
$1.25 in quarters for 3 minutes.
Showers and Laundry at Twin Lakes Lodge.
Drinking water at Rock Creek Campground
on Cascade Lakes Highway / FS Road#46
Hand pump next to the fish cleaning station
is a deep source well and the water is cool,
clean and refreshing.
Just north of Osprey Point Trailhead
is the historic Billy Quinn gravesite.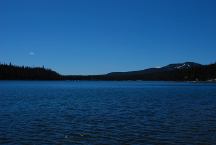 Elk Lake
LATITUDE: N 43.58.815
LONGITUDE: W 121.48.325
Elevation; 4893'
Elk Lake was named by J.Roy Harvey, first
supervisor of the Deschutes National Forest.
It covers approximately 390 acres. It's maximum
depth is 75 feet and the lake has no surface outlet.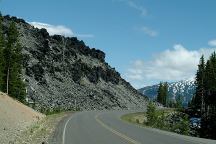 Devils Garden from Cascade Lakes Highway
(Between milepost 27-28)
Also see: LAVA FLOW CAMPGROUND
Also see: NEWBERRY CRATER and MONUMENT
Also see: ROCK CREEK CAMPGROUND
Also see: SPARKS LAKE CAMPGROUND
Also see: WICKIUP RESERVOIR / ROAD#090
Also see: WICKIUP RESERVOIR / ROAD#4260
Also see: WICKIUP RESERVOIR / ROAD#4280
Also see: WICKIUP RESERVOIR / ROAD#4370
Also see: WICKIUP RESERVOIR / ROAD#44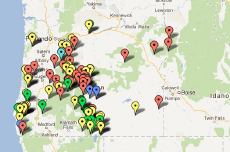 Google Custom Map by Ian
OREGON FREE CAMPGROUND MAP
Google custom map by Ian with most of the
free campgrounds in Oregon.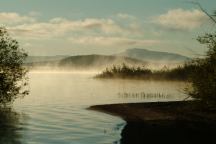 Wickiup Reservoir early in the morning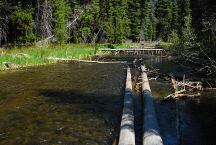 Parking Area along the Deschutes River
Century Drive / MP 42
LATITUDE: N 43.51.399
LONGITUDE: W 121.47.000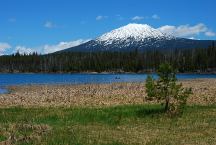 Lava Lake with Mount Bachelor in the background
LATITUDE: N 43.54.920
LONGITUDE: W 121.46.090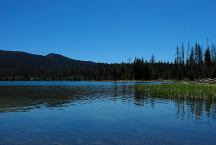 Little Lava Lake
LATITUDE: N 43.54.635
LONGITUDE: W 121.45.710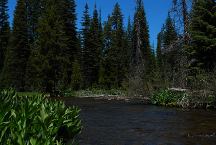 Day Use Area
LATITUDE: N 43.53.005
LONGITUDE: W 121.46.112
Century Drive Day Use Area along the Deschutes River
Picnic tables, Metal Firerings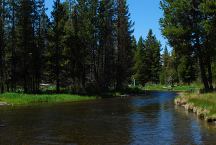 Cow Meadow and Deschutes River
Fee Area / $10
LATITUDE: N 43.48.800
LONGITUDE: W 121.46.580
Elevation: 4530'
Road 970 for 1 1/2 miles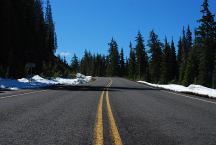 Century Drive between Sparks Lake and Mount Bachelor
Snow on ground June 7, 2010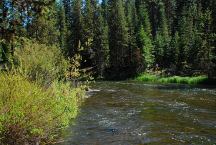 Deschutes River viewed form Highway 42
LATITUDE: N 43.44.665
LONGITUDE: W 121.46.935
This section of the Deschutes River flows between
Crane Prairie and Wickiup Reservoir.
PHOTO HERE
Old Cabin on Browns Creek
N 43.43.400
W 121.49.060
Elevation 4424'
From the dispersed camp area there is an old road
and the cabin is about a five minute walk. There are
several springs and an old water wheel...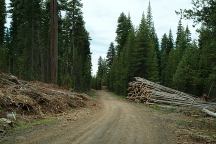 Road #4285 Logging Operations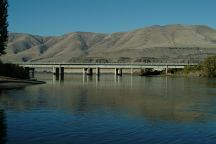 Deschutes Crossing at the Columbia River
Deschutes River drains into the Columbia River
CAMPGROUND INDEX
Complete free campground listing


www.eugenecarsey.com
Free campgrounds and camping
OREGON CAMPGROUNDS
CRANE PRAIRIE RESERVOIR
BROWNS MOUNTAIN ROAD