There are limited camping opportunities
on Big Creek Road and in Siuslaw National
Forest, but don't despair...
NORTH FORK DISPERSED CAMP
Between milepost 3-4 on Big Creek Road.
Not the best campground, but not the worst
14 Day Camping Limit / Closed in Winter
About 15 minutes to the Oregon Coast
Continue towards Hwy.101 and there are
a few places to camp... keep an open eye
for spur roads toward the creek.
There are some gravel pits on Big Creek Road
near Hwy.101 where you could overnight park.
ESTABLISHED CAMPGROUNDS
ARCHIE KNOWLES CAMPGROUND $15.00
Highway 126 between milepost 17-18
Strict rules about dogs
WHITTAKER CREEK BLM RECREATION SITE
$10.00 / Free day Use
(No dogs allowed in Day Use Area)
CLAY CREEK BLM RECREATION SITE
VINCENT CREEK BLM RECREATION SITE
FAWN CREEK BLM RECREATION SITE
KENTUCKY FALLS
UPPER LAKE CREEK BLM REC. SITE
MISSOURI BEND RECREATION SITE
ALSEA FALLS BLM RECREATION SITE
LOON LAKE BLM RECREATION SITE
TYEE BLM RECREATION SITE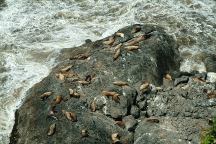 Sea Lions north from Florence, Oregon
DIRECTIONS:
From Florence
Take 126 East about 1 mile
Left on North Fork Siuslaw Road
About 11 miles, stay straight and
it turns into Big Creek Road.
North Fork Camp is about 3 miles
From Florence (Dirt Roads)
Take Hwy 101 North
A few miles past Sea Lion Caves
Turn on Big Creek Road.
When FIRE RESTRICTIONS are in effect,
all vehicles are required to carry:
- 1 gallon of water or 2 1/2 lb. fire extinguisher
- Shovel with 8" blade at least 26 inches long
Carrying an ax is a good idea.
Showers in Florence at the laundry...
Curves Laundromat
$2.00 in Quarters / 8 minutes
37th Street Coin Laundry and Shower
DEAN CREEK ELK VIEWING AREA
Highway 38 a couple miles east from Reedsport
Never actually saw any elk here...
Also see: BURNT MOUNTAIN
Also see: GLENDALE POWERS
Also see: PARK CREEK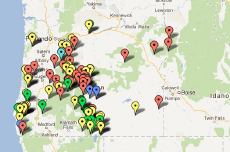 Google Custom Map by Ian
OREGON FREE CAMPGROUND MAP
Google custom map by Ian with most of the
free campgrounds in Oregon.