White Azalea C.G.

Beautiful landscapes and
scenery. There are a couple
established campgrounds that
are free. Picnic tables, firepits
and vaulted toilets. Between
Mokelumne Campground
and White Azalea Camp-
ground are several great
camping areas along the
river. You will see a bridge
and there is also camping
on the other side of the
river at Moore Creek
Campground.
Salt Springs Dam and Reservoir has a nice
picnic area with outhouse and garbage cans.
It is a very scenic drive with some good
photos waiting for you...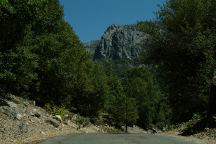 Road towards Salt Springs Dam
No OHV's
DIRECTIONS:
From Hwy.88
Take road 8N25 towards Salt Springs Dam.
(Single lane road with turnouts)
The road will split in 9 miles
Stay right on Road #9 / 8N50
It is hard to know where each road begins
and what numbers, but there are road signs
that clearly mark the way.
From the junction of
Hwy.88 and Road 8N25:

Mokelumne Campground
Moore Creek Campground
White Azalea Campground
Salt Springs Dam

11 miles
12 miles
12 miles
16 miles
Long and steep downgrades that require
good brakes.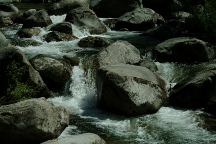 Mokelumne River?
ESTABLISHED CAMPGROUNDS
COLE CREEK CAMPGROUND
No information
LUMBER YARD CAMPGROUND
Free???
PARDOES POINT CAMPGROUND
Fee area
SOUTH SHORE CAMPGROUND
Fee area
SUGAR PINE CAMPGROUND
ESTABLISHED CAMPGROUNDS
Campgrounds are located along Hwy.88
CAPLES LAKE CAMPGROUND
Fee area
KIRKWOOD CAMPGROUND
Fee area
SILVER LAKE CAMPGROUND
Fee area
WOODS LAKE CAMPGROUND
Fee area
Also see: BRISTLECONE PINE FOREST
Also see: COSUMNES CAMPGROUND
Also see: FORESTHILL ROAD
Also see: HIGHWAY 4
Also see: LAKES BASIN
Also see: ROAD#25