These are not the best campgrounds,
but there's not many choices in the nearby
area and they are free.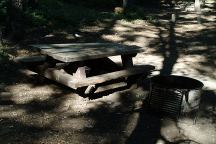 White Oaks Campground
WHITE OAKS CAMPGROUND
Designed for tents. No level parking.
Kind of falling apart...
Garbage cans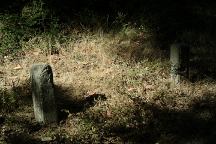 Cement posts line the road and the campsite
parking areas, controlling vehicular traffic.
Beware of the cement posts... most are
about 12 inches high and hard to see
in the mirrors when backing up.
CHINA CAMP CAMPGROUND
Not bad, not great...
Between White Oaks and China Camp,
there is a primitive horse camp. There
is a water spigot at the horse corral.
The water is clear and tastes good, but
no guarantees that it has been tested.
J... HOT SPRINGS
Had a schedule to keep and didn't
go to the hot springs, but there were
a lot of cars heading that way.
DIRECTIONS:
No information at present time...