Free camping and campgrounds
CALIFORNIA CAMPGROUND DIRECTORY
COASTAL DRIVE
PRAIRIE CREEK REDWOODS SP
HWY.101, NORTHERN CALIFORNIA
Dispersed and Primitive Camping
Taking the north entrance to Prairie Creek
Redwoods State Park, keep straight and
within a mile or two there will be a sign
verifying your on the right road. It is a
narrow road cutting along steep hillsides
that tower above the ocean.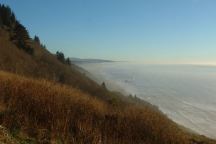 View on Coastal Drive
There are no official campgrounds.
It is a good place to overnight park
or you could set-up a tent on the beach.
Nobody has ever bothered us and we
stayed here several times, but in recent
years have been more and more people
and vehicles. Even if you don't camp here,
it is a great road and worth the drive
ESTABLISHED CAMPGROUNDS
PRAIRIE CREEK REDWOODS S.P.
ELK PRAIRIE CAMPGROUND
FLINT RIDGE CAMPGROUND
GOLD BLUFF BEACH
JEDEDIAH SMITH REDWOODS S.P.
OLD DOUGLAS MEMORIAL BRIDGE SITE
DIRECTIONS:
From Brookings Oregon
Take Highway 101 south
(50 miles south of the Oregon boarder)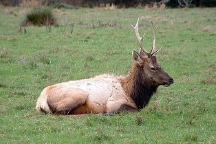 Division Road Elk Viewing Area,
Apx.13 miles south on Hwy.101
When in the area it is recommended to visit:
JEDEDIAH SMITH REDWOODS STATE PARK
and HOWLAND HILL SCENIC DRIVE
(About 10 miles south from the Oregon Boarder)
Highly recommended to drive Howland Hill Scenic
Drive through Jedediah Smith Redwoods State Park.
Motor homes and trailers not recommended. No fees.
From Highway 199 near Hiouchi Information Center,
take South Fork Road about a mile and stay right
when the road splits. Road signs marking the way.
Also see: SOUTH FORK ROAD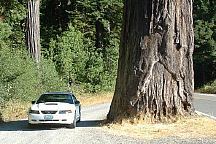 Newton B. Drury Scenic Parkway
Also see: BROOKINGS / PACKERS CABIN
Also see: BROOKINGS / ROAD #1108
Also see: HIGHWAY 199 (Oregon)
Also see: SOUTH FORK ROAD
CAMPGROUND INDEX
Complete free campground listing


www.eugenecarsey.com
dispersedcampgrounds.com
Free campgrounds and camping
CALIFORNIA CAMPGROUND DIRECTORY
COASTAL DRIVE
PRAIRIE CREEK REDWOODS SP