DIRECTIONS:
From Sunizona, Arizona take Hwy.181
Follow the signs to Chiricahua National Monument.
Just before you enter Chiricahua National Monument
Turn right on Pinery Canyon Road / Road#42
The first couple miles are private lands.
(Pinery Canyon Road continues through to Paradise)
From I-5 exit at Wilcox.
Take Hwy.186 south
Turn east on Hwy.181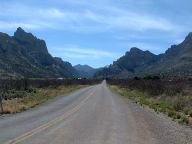 The road towards Paradise, Arizona
ROAD CONDITIONS:
Pinery Canyon Road is a rough dirt road.
Some serious washboards the first couple miles.
If you continue all the way through to Paradise,
there are some washes and creeks you have to
transverse... Passenger cars can make it with
good weather and caution.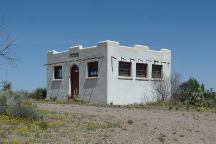 Perfect desert house...
Along road towards Paradise, Arizona
DISTANCES:
From Hwy.80 and Hwy.181
Chiricahua National Monument 26 miles
Drinking water at Chiricahua National Monument
(At the Visitor Center)
Also see: CHERRY CREEK
Also see: CITY OF ROCKS
Also see: COCHISE STRONGHOLD
Also see: COCHISE STRONGHOLD WEST
Also see: HIGHWAY 191
Also see: MESCAL
Also see: TURKEY CREEK ROAD


Geronimo Surrendered on Sept. 6th 1886
in Skeleton Canyon and forever ended Indian
warfare in the United States. Memorial erected
in 1934 by the city of Douglas.
RATTLESNAKE RANCH
We expected a pit full of rattlesnakes and
some crazy person... instead we found a
museum in the middle of the desert.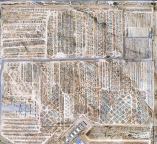 The Boneyard
Davis-Monthan Air Force Base is home to thousands
of outdated planes and helicopters mothballed by the
United States Air Force and other allied forces. The 2,600
acre facility is the size of 1,300 football pitches and sprawled
across the desert in Tucson, Arizona and houses the 309th
Aerospace Maintenance and Regeneration Group (AMARG)
This 60 year-old facility is America's only storehouse for
out-of-service aircraft.
CAMPGROUND INDEX
Complete free campground listing


www.eugenecarsey.com
dispersedcampgrounds.com
Free campgrounds and camping
ARIZONA CAMPGROUND DIRECTORY
CORONADO NATIONAL FOREST
PINERY CANYON ROAD
CHIRICAHUA NATIONAL MONUMENT