There are several free campgrounds in
Gila National Forest, but we failed to
document things during these years...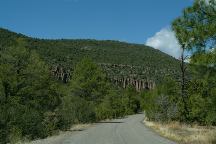 Hwy.15 towards Cherry Creek Campground
If you continue north on Hwy.15 towards
Gila Cliff Dwellings, there is another good
campground along the Gila River.
DIRECTIONS:
From Silver City
Take Hwy.180 east
Turn north on Hwy.15
FLASH FLOOD WARNING:
Be aware where you set up your tent. During
a rain storm, Cherry Creek Campground turns
into a flood and run-off area. In a matter of hours,
Cherry Creek went from a couple inches to several
feet deep, making it impassable for passenger cars.
FROM THE BLOG:
The most rude campers we ever met was at
Cherry Creek Campground. Anything you
could do to disrupt other people, they did,
including taking over another camper's site,
chopping down a tree next to our tent, blasting
music all night, and that was just for starters.


San Francisco River from Hwy.80
The store in Cloudcroft, New Mexico
has about the best pies ever... and very
reasonable priced You might want to
buy a couple extra. (Can't remember
the name of the store, but Cloudcroft
is a small town and you will find it)
Also see: CHIRICAHUA
Also see: CITY OF ROCKS
Also see: COCHISE STRONGHOLD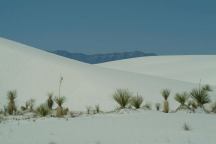 White Sands National Monument
PHOTO HERE
Very Large Array Radio Telescope
PHOTO HERE
Mountain on Hwy.60
PHOTO HERE
Gila Cliff Dwellings
TOURIST ATTRACTIONS:
Gila Cliff Dwellings National Monument
Very Large Array
White Sands National Monument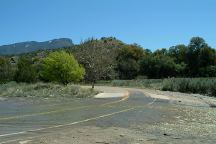 Road to the Catwalk (April 13, 2004)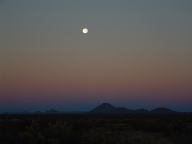 Interstate-10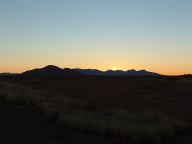 Interstate-10 Sunset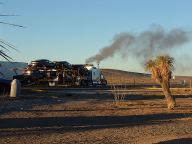 Interstate-10 Rest Area
CAMPGROUND INDEX
Complete free campground listing


www.eugenecarsey.com
dispersedcampgrounds.com
Free campgrounds and camping
NEW MEXICO CAMPGROUND DIRECTORY
GILA NATIONAL FOREST
CHERRY CREEK CAMPGROUND