USFS ROAD #23 (North of Jct.90)

COUNCIL LAKE - A classic campground.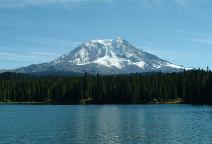 TOKHLAKA LAKE
From USFS Road 23, take road #2329 to Road#026.
Numbered sites with picnic tables, metal firerings,
and vaulted toilets. Tokhlaka Lake has some grand
views of Mt. Adams. No fees during off season.
CHAIN OF LAKES
Another established campground about 1 mile from
Tokhlaka Lake. No fees during the off season.
Follow the signs and take Road #22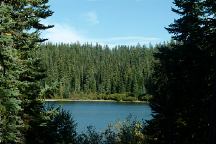 OLALLIE LAKE
Road 5601 near Tokhlaka Lake.
You will see the signs. Also an established campground.
No fees during the off season. This is a good spot just
before the established campground, with an old picnic
table and firepit.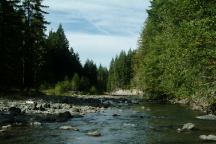 CISPUS RIVER
Road #203, between Mile Post 19 and 20, south of Randle.
At the north end of the bridge crossing Cispus River
is Road #203. It just goes a couple hundred yards with
campsites along the river. It's a nice place, feels like being
in the jungle with moss covered trees and ferns. There are
a couple camps, but best for one group only.
BLUE LAKE CAMPGROUND
16 miles south of Randle.
Established Forest Service Campground.
No fees during the off season.
USFS ROAD #23 (South of Jct.90)
There are a couple dispersed camp areas.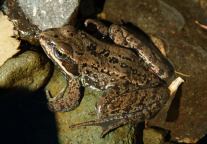 Rock Creek has a nice little campsite
along side of the road.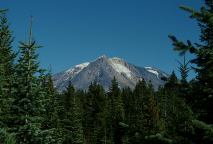 Road #511 near milepost 40.
Just a couple hundred yards up the
Road #511 is the first camp. This is the
actual view from the camp and firering.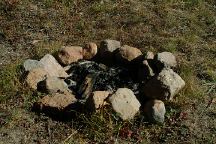 USFS ROAD #21
There are some good campgrounds and
camping areas. There are a couple roads
that lead to more rivers and lakes, but we
didn't have time to explore until next time.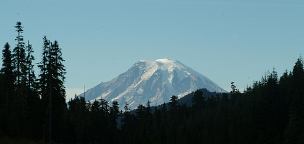 Photo from USFS Road #21.
CAT CREEK CAMPGROUND
25 miles south of Packwood at Mile Post 22.
Junction of #21 and #7800. Cat Creek Campground
is nice and there are more primitive campsites along
both sides of the road with firepits and outhouse.
A couple sites have picnic tables.
Great mountain views from Road # 21.
DIRECTIONS TO ROAD #23:
From Hwy 12, go south on Hwy.131 at Randle.
In a couple miles take Road #23 towards Trout Lake.
From I-5 at Exit 21, take Highway 503 and
USFS Road 90 to Junction of Road #23.
Go north towards Randle.
DIRECTIONS TO ROAD #21:
Road #21 begins near Packwood on Hwy.12
Take Road #21 for 20-30 miles south
Road #21 ends at the Jct. of Road #23
Also see: COUNCIL LAKE
Also see: QUARTZ CREEK
Also see: MOUNT ST. HELENS NM(South)
Photos from Sept. 26, 2005
CAMPGROUND INDEX
Complete free campground listing


www.eugenecarsey.com
dispersedcampgrounds.com
Free campgrounds and camping
WASHINGTON CAMPGROUND DIRECTORY
GIFFORD PINCHOT NATIONAL FOREST