Between MP 32 and 33 on USFS Road #90
You will cross a bridge with a sign marking
Quartz Creek. The camp is the north side of
the bridge, along the banks of Quartz Creek.
Picnic table and firering. It is very relaxing here,
with some classic camping area. Stands of old
growth trees add to the experience. There are
a couple areas to park with more dispersed camping
areas up the road.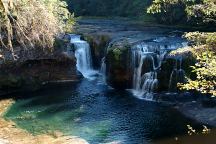 Great photos at Lower Falls Recreation Area,
just a couple miles west. Best light conditions
in the afternoon. This photo taken in the morning,
we need to return and capture a better image.
DIRECTIONS:
From I-5 at Exit 21
Take Highway 503 / USFS Road 90.
Between milepost 32 and 33
Also see: COUNCIL LAKE
Also see: USFS ROAD #23
Also see: MOUNT ST. HELENS NM(South)
Photos from Sept. 26, 2005
CAMPGROUND INDEX
Complete free campground listing


www.eugenecarsey.com
dispersedcampgrounds.com
WASHINGTON CAMPGROUND DIRECTORY
GIFFORD PINCHOT NATIONAL FOREST
QUARTZ CREEK