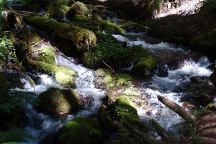 Indigo Springs... not the best photo.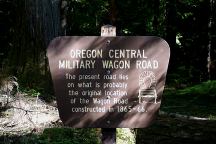 Oregon Central Military Wagon Road
at Indigo Springs Campground.
INDIGO SPRINGS CAMPGROUND
Near Milepost 29
Indigo Springs is an established campground.
There are no fees...
Picnic tables, metal firerings, and outhouse.
The actual Indigo Springs are impressive.
There is a trail that loops around the springs.
(Just a short walk, maybe a couple hundred feet)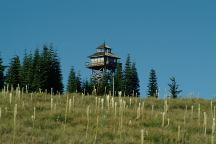 Warner Ridge Lookout
(Warner Mountain Lookout)
WARNER RIDGE LOOKOUT
(Warner Mountain Lookout)
Warner Ridge lookout is a working fire lookout.
Visitors permitted between 8am - 5pm
Except during lightning and fire conditions.
Lookout is rented November - May
If interested in renting the lookout
Contact the Middle Fork Ranger District
541-782-2283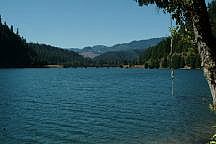 Hill Creek Lake.
Perfect camp on Road#21
ESTABLISHED CAMPGROUNDS
PACKARD CREEK CAMPGROUND $14.00
SAND PRAIRIE CAMPGROUND $12.00
Oregon Central Military Wagon Road
The old road at Sand Prairie Campground
is probably a portion of the Wagon Road
constructed in 1865-66
YOUNGS FLAT CAMPGROUND
Youngs Flat Campground is free,
but kind of cheesy and beat up.
It is next to the main road
SECRET CAMPGROUND $10.00
Between milepost 18-19
CAMPER'S FLAT CAMPGROUND $10.00
Water pump
Elevation 2000'
Near milepost 20 (Between MP19-20)
SACANDAGA CAMPGROUND $8.00
Road#279
Picnic tables, BBQ Grills, metal firerings,
outhouse and hand water pump.
TIMPANDAS LAKE CAMPGROUND $8.00
Road#399
Beautiful campground...
There are several other established
campgrounds that are not listed...
(Fees last updated: 2006)
HILL CREEK LAKE
Road#21 near Oakridge
LEMOLO LAKE
Continue on Road#21 and Diamond Drive.
Lemolo lake has both established campgrounds
and dispersed camping areas. Within a couple miles
of Lemolo Lake are some mountain lakes and springs
offering some great camping opportunities.