WILDERNESS PERMITS REQUIRED
Memorial Day Weekend - October 31
No campfires within 100' of any lake, stream,
spring, pond, or trail system in Wilderness Areas.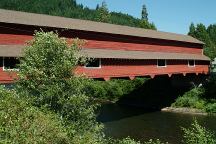 Office Bridge in West Fir, Oregon
Built in 1944 and is 180' in length
DIRECTIONS:
From Oakridge, OR
Take Hwy.58 west about 3/4 mile
(Between mileposts 33 and 34)
Turn right on West Fir Oakridge Road
About 3 miles, it will run into NF Road#19.
There is a red covered bridge(Office Bridge)
Stay straight towards Huckleberry Flats on
North Fork Road / Aufderheide National Scenic Byway
From Eugene / Springfield
Take Highway 126 East towards McKenzie Bridge
Between milepost 45-46
Turn south on Road#19
Ray's grocery store in Oakridge has a good selection
of fresh produce, and the prices are good. You can
notice the produce manager takes pride in his work.
Cheapest gas is in Springfield near I-5
Cheapest gas on I-5 southbound at Creswell
or I-5 northbound at Eugene, Albany or Salem.
Also see: FALL CREEK LAKE
Also see: LAVA CAMP LAKE
Also see: LOGGERS BUTTE CAMP
Also see: LOST LAKE
Also see: OAKRIDGE / ROAD #21
Also see: OAKRIDGE / ROAD #24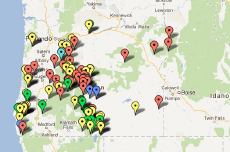 Google Custom Map by Ian
OREGON FREE CAMPGROUND MAP
Google custom map by Ian with most of the
free campgrounds in Oregon.


Road #2414
CAMPGROUND INDEX
Complete free campground listing


www.eugenecarsey.com
dispersedcampgrounds.com
Free campgrounds and camping
OREGON CAMPGROUND DIRECTORY
WILLAMETTE NATIONAL FOREST
BOX CANYON CAMPGROUND
AUFDERHEIDE FOREST DRIVE