Scaredman Campground and BLM Recreation Site
is comfortable, easy to get relaxed. The air is clean
and fresh...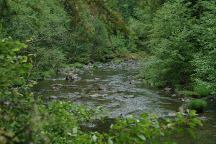 Canton Creek from Scaredman Campground Site #4
Picnic Tables
Metal Firerings
Outhouses
Garbage Service
Drinking Water
Campground Host
14 day Camping Limit
DIRECTIONS:
From Hwy.138 / Milepost 39 near Steamboat
Go north on Road#38 / Steamboat Road
Drive 1/2 mile and turn left on Canton Creek Road
Scaredman Campground is 3 miles
From Cottage Grove go east towards Dorena.
Near Culp Creek turn on Sharp Creek Road.
Take Sharp Creek Road for 10 miles
Take Martin Creek / Clark Creek Road #23
About 1/2 mile the road splits
Stay on Clark Creek Road #23
The road becomes narrow with steep uphill grades
At the summit will be an unmarked split in the road
Stay left to Scaredman Campground and Recreation Site
See road map...the roads are narrow, winding
up the mountains. Expect rocks in the road.
MILEAGE CHART:

From the junction of Road#38
and Canton Creek Road




Steamboat Creek Campground
Oakridge

Scaredman Campground
Cottage Grove

6 miles
49 miles

3 miles
49 miles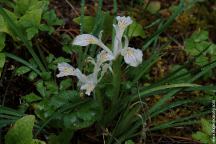 Wild Flowers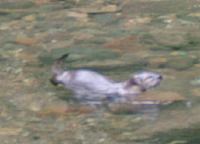 Otter searching for food
Showers at Susan Creek Campground
Hwy.138 / Milepost 29.2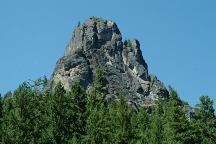 NEARBY CAMPGROUNDS
CANTON CREEK CAMPGROUND $8.00
Picnic tables, metal firerings, outhouse,
water, and garbage service
STEAMBOAT FALLS CAMPGROUND $7.00
Picnic tables, metal firerings, outhouse,
and garbage service.
ROCK CREEK CAMPGROUND $8.00
Day Use Area with horseshoe pits, badminton,
garbage, outhouse, ect...
MILLPOND CAMPGROUND $8.00
Water, lighted outhouse...
No dogs in picnic area.
(Fees last updated 2006)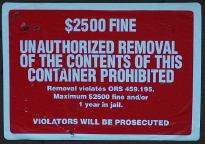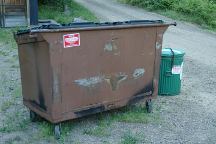 WARNING!!! If you remove a soda can or
anything from the garbage bins, you could go
to jail for 1 year and receive a $2500 fine.
LEMOLO LAKE
Lemolo lake has both established campgrounds
and dispersed camping areas. Within a couple miles
of Lemolo Lake are some mountain lakes and springs
offering some great camping opportunities.
Umpqua is the name of an Indian Tribe
Tokette is Chinook jargon for "Pretty" or "Graceful"
Lemolo is Chinook jargon for "Wild" or "Untamed"