ARCHES OF ALABAMA HILLS
There are hundreds of natural arches throughout Alabama Hills Recreation Area. The best way to find arches is by walking around the rock formations. The arches blend in with the surrounding rocks.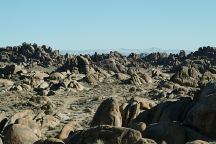 Alabama Hills Recreation Area
Alabama Hills were named in the 1860's during the Civil War by Southern sympathizers in honor of the Confederate warship CSS Alabama. The Alabama Hills Recreation Area was dedicated in 1969 by Bureau of Land Management and encompasses almost 30,000 acres.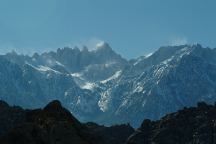 Mount Whitney 14,497'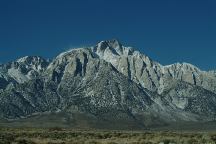 Lone Pine Peak 12,994'
Incredible views of the Sierra Nevada Mountains, including Mount Whitney, the highest point in the contiguous United States.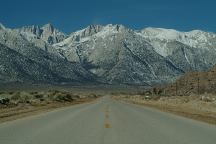 Whitney Portal Road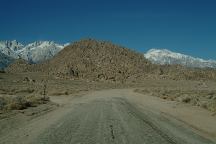 Movie Flat Road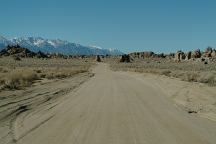 Movie Flat Road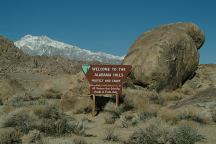 Sign at Alabama Hills Recreation Area
MOVIES FILMED IN ALABAMA HILLS
Several movies have been filmed in this area, including Gunga Din, The Lone Ranger, ect...
MOVIE LOCATIONS IN ALABAMA HILLS
Locations of movies filmed in the Alabama Hills. Locations have been matched with images from the movie. Directions to help find the locations. Included are GPS coordinates and satellite photos.
INDIAN GRINDING STONES AND MORTARS
You can find several Indian Mortars in the Alabama Hills and surrounding area.