Reduced Service Season
09/07/05 - 05/23/06
No Camping Fees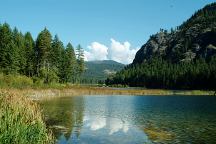 Pierre Lake
Campsite #5 is best, the most level and
on the lakes edge. Picnic tables, metal
firepits and outhouse. The campground
is adjacent to Pierre Lake Road, but there's
not a lot of cars. Not my personal favorite
campground, just average, but the beauty of
the lake makes up for it. The road is paved
all the way to Pierre Lake Campground.
Drinking water at junction of Hwy.395
and Pierre Lake Road. There is a water
pump at Barstow Grocery Store and
Gas Station. They have good prices on
groceries and supplies, considering it is
a small store in the middle of nowhere.
DIRECTIONS:
About 15 miles south of the Canadian Border
(Between Boyd and Orient)
From Hwy.395 take Pierre Lake Road
(at Barstow Grocery Store).
At the single lane bridge turn left.
Take Pierre Lake Road about 11 miles
You will see Pierre Lake Campground.
Also see: Trout Lake Campground
Also see: Swan Lake Campground
Camped here Sept.15, 2005
CAMPGROUND INDEX
Complete free campground listing


www.eugenecarsey.com
dispersedcampgrounds.com
Free campgrounds and camping
WASHINGTON CAMPGROUND DIRECTORY
COLVILLE NATIONAL FOREST
PIERRE LAKE CAMPGROUND