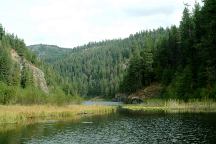 Trout Lake
We are sitting here thinking, life sure is good,
everything is just about perfect. This really is
a great campground and not a single other
person around. There are picnic tables, metal
firepits, and vaulted toilet..
There is a boat launch.
No motorized boats allowed.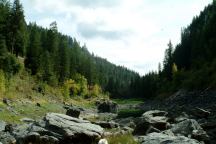 Emerald Lake
Emerald Lake is about 3 miles walk on
Hoodoo Canyon Trial #17. It's a moderate
walk, The first 3/4 mile is uphill, then about
a 1 1/2 miles of level terrain, followed by about
3/4 mile down hill. The reverse walking back.
DIRECTIONS:
From the junction of Hwy 20 and Hwy 395
Go west on Hwy 20 about 5 miles and you
will see the sign for Trout Lake. It is five miles
of narrow dirt roads.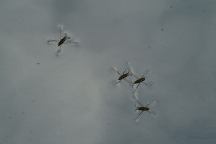 Water Skeeters doing what they do best.
Camped here September 15, 2005, Site#2
CAMPGROUND INDEX
Complete free campground listing


www.eugenecarsey.com
dispersedcampgrounds.com
Free Campgrounds and camping
WASHINGTON CAMPGROUND DIRECTORY
COLVILLE NATIONAL FOREST
TROUT LAKE CAMPGROUND