Reduced Service Season
09/07/05 - 05/23/06
No Camping Fees
If you drive down Scatter Creek Road/ NF#53
towards Swan Lake, there are several lakes and
campgrounds. It is a classic setting, camping along
the lake shores with memories of childhood.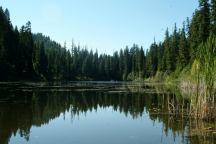 Fish Lake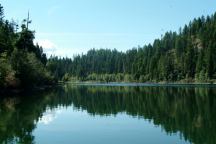 Long Lake
Swan Lake campground is the main campground,
it was almost crowded. Long Lake there were only
two campsites occupied, not crowded. Ferry Lake
was empty, you had the place to yourself and chipmunks.
There are picnic tables, metal firepits and outhouses.
The garbage cans have been sealed closed for the season,
so pack it in, pack it out.
There is a boat launch.
No motorized boats allowed.
Fly fishing only.
DIRECTIONS:
Hwy.21 About 6-7 miles south of Republic, Washington
Turn on Scatter Creek Road towards Swan Lake and
follow the signs.
WARNING:
Be careful if walking along the lake shore,
the black mud is like quicksand.
Camped at Ferry Lake on Sept.14, 2005 (#5)
CAMPGROUND INDEX
Complete free campground listing


www.eugenecarsey.com
dispersedcampgrounds.com
Free camping and campgrounds
WASHINGTON CAMPGROUND DIRECTORY
SWAN LAKE CAMPGROUND
FERRY LAKE CAMPGROUND
COLVILLE NATIONAL FOREST