Free camping and campgrounds.
CALIFORNIA CAMPGROUNDS
CHESTER CALIFORNIA AREA
LASSEN NATIONAL FOREST
SIERRA NEVADA MOUNTAIN RANGE
These campgrounds are north from Chester, CA
From Main Street take Feather River Drive. There
are many dispersed camping opportunities.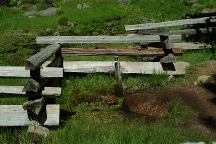 Domingo Springs Drinking Water
Benner Creek Campground 7 miles
Juniper Lake 14 miles
There is 5 miles pavement then dirt
BENNER CREEK CAMPGROUND
Established Forest Service Campground
Stone firepits with metal grills
There is also an outhouse
This is kind of a lousy campground...
JUNIPER LAKE
Juniper Lake is in Lassen National Park
We think Juniper Lake is nice
The only problem is most of the time it is snowed in.
June 5th and the snow is several feet deep.
---
DRAKESBAD / WARNER VALLEY
There is a campground near Drakesbad,
but the road was impassible in a passenger
vehicle.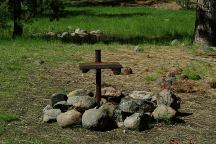 Firegrill at Unknown Name Campground
UNKNOWN NAME CAMPGROUND
At the junction to Drakesbad on Warner Valley
Road go about a mile and to the right you will see
an outhouse in the trees. This is a campground.
Rivers, streams, springs, and meadows...
Picnic tables, metal firerings, and outhouse.
We only noticed this campground because
somebody had left a paper plate nailed to a
tree.
---
OTHER CAMPGROUNDS;

HIGH BRIDGE CAMPGROUND
Nice... but there is a fee of $14

DOMINGO SPRINGS CAMPGROUND
Nice... but there is a fee of $14
Across the road is Domingo Springs with
drinking water flowing out of a pipe.

DIRECTIONS:
Highway 36
Near junction of Highway 89

NOTE:
June 6, 2006
Hwy.89 through Lassen NP
was still closed due to snow

Showers in Chester on Highway 36
At the laundry on Main St. and Reynolds
$3 for 6 minutes (add coins for more time)
Cedar Chalet Bakery has great bread and pastries.

Least priced gas in Yuba City or Paradise
Only a couple cents more in Oroville.

99.7FM Classic Rock
They actually played some songs we liked.

Camped here June 5, 2006

WARNING: If you looked at the road atlas
and plan to drive between Almanor and Stirling City,
forget it... The map shows paved roads, but these are
horrible dirt roads that only 4x4 vehicles could make it.
These roads have never been paved... one of many
errors we have found on American Map Road Atlas.
To be fair, there are more errors on the other major
Road Atlases than American Map Company.