Bagdad is an active cooper town.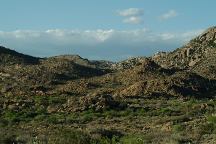 View from Highway 96
We have camped here many times and
have only seen one other person... not
counting the mystery figure who walks
by late at night. It is rugged and harsh
desert conditions with cactus, ect... be
prepared with summer temperatures that
can be over 100 degrees. The road has
several washes that could flood during
a storm. With killer bees and other
deadly creatures... can you survive...
Rocks and minerals abound. We found a
big plate of quartz crystals. Previous years
we found some wild looking rocks. There
is gold everywhere... we just haven't found
it yet.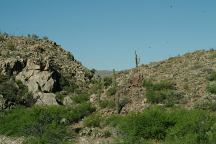 Muleshoe Ranch Road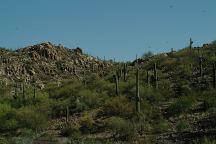 Muleshoe Ranch Road
Between MP 7-8 there is an unmarked road
to the east. Look for a structure with two solar
panels and that marks the turn. Don't know the
name, for now calling it Muleshoe Ranch Road.
There are several areas to camp down this road.
Coyotes and rabbits are common sights.
When we camped here previously, there was
someone who walked down the road in the
middle of the night. If you continue towards
the end of this road, there is abandoned ranch
house. As we walked towards the house, you
could feel a set of eyes watching you.

Abandoned Ranch with ghost???
There is no evidence that anybody lives here,
but this is as close as we got.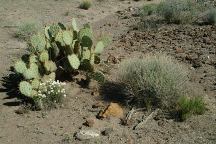 Cactus
We love this place because it is so remote...
there is nobody... the less people of almost
anywhere.
Near MP #11, you will cross a bridge and
there are some camp areas along the creek.
Most of the spots are in view of the main
road with easy access.
What must of been a military practice, as the
ground started to rumble and the dog ran for
cover... two jets appeared from over the top of
the hills. One jet was in pursuit of the other and
fired a couple missiles. The missiles all missed,
leaving a trail of smoke and then mysteriously
disappeared. That was a ride... your imagination
just took over... either you dived for cover or
searched for a better view.