CAMPING RECIPES
GOOD FOOD AND RECIPES
www.dispersedcampgrounds.com
When we cook, start with a basic idea, then go
to the store and buy what is the freshest. What
the actual end results are, can vary greatly, but
it always comes out perfect.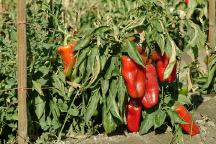 Red Bell Peppers
NOTE: There are no paid advertisements.
www.eugenecarsey.com has no affiliation
with mentioned companies or brand names.
Recommendations are based on quality.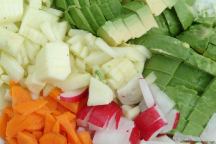 Salad ingredients
SALADS
Camping in California, there are fire restrictions.
Even using a gas or propane stove can land you
in jail, so we got good at making salads... and that
is a good thing.
SALAD#01
Mix and match including beans and corn
SALAD#02
More crunchy with carrots and radish pieces.
Apples, avocados...
SALAD#03
With hard boiled eggs...
SALAD#04
With salmon and mushrooms...
All our salads include cheese, but it is optional.
TIN FOIL RECIPES
Cooking with tin foil is simple and easy to clean.
Almost always comes out perfect...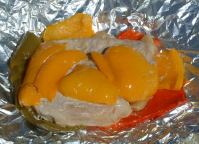 Recipe with pork, peppers, and peaches
It doesn't get much easier...
PHOTO HERE
Pork, peppers, apples, zucchini, ect...
Sprinkled with whole garlic.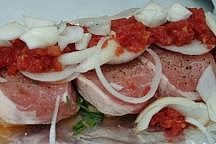 More pork, but we cook with everything.
PHOTO HERE
Hamburgers with turnips, daikon radishes, and
more stuff that grows under the ground, for a
healthy and surprisingly great meal.
PHOTO HERE
Hamburger topped with avocados, tomatoes, and
slices of hard boiled eggs.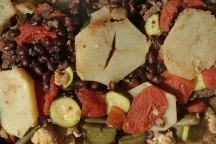 Hamburgers smothered in...
Just what was laying around, including potatoes,
zucchini, cauliflower, tomatoes, beans... the hamburger
is somewhere in the middle.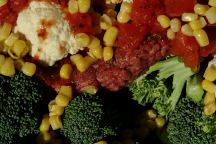 Hamburgers smothered in...
Broccoli, cauliflowers, tomatoes, zucchini, corn,
and potatoes... hamburger is somewhere in the middle.
Similar to above, except more broccoli and cauliflower.
PHOTO HERE
T-Bone Steaks that melt in your mouth. The secret is
picking the right piece of meat, but prices went to the
sky, now we can't afford too often...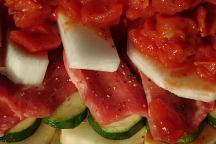 Breakfast Steaks and Turnips
Also potatoes, zucchini, and tomatoes.
You can add....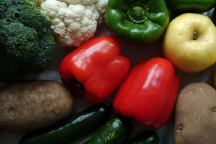 Fresh Ingredients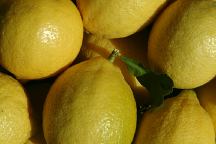 Lemons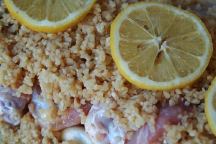 Lemon Garlic Chicken
Chicken smothered in garlic topped with
thin slices of lemon. Perfect and easy.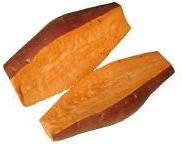 Sweet Potatoes / Yams
Cut off the ends and slice in half.
Wrap in aluminum foil and throw
on hot coals. Turn every 20-30 minutes.
Done in about a hour. Even if you forget
about them, will stay good a couple hours.
ALUMINUM FOIL BASICS:
Wrap ingredients in aluminum foil.
(Either individual packets or one large packet)
Throw packets on hot bed of coals.
Cook 20-25 minutes each side...
Big packets should be left on the coals, turning
twice more or every 10 minutes until done.
Use leather work gloves to turn tin foil packets.
ALUMINUM FOIL TECHNIQUES
Layer the ingredients according to cooking time.
Potatoes on the bottom / outside layers
Broccoli, zucchini, ect. towards the middle
Meat in the center, so it will cook evenly on both sides.
SANDWICHES
When you don't feel like cooking.
MAKE GOOD COFFEE
How to make Good Coffee
Principles of making good coffee.
How to make cowboy coffee
CAMPGROUND INDEX
Complete free campground listing


www.eugenecarsey.com
dispersedcampgrounds.com
Free campgrounds and camping
GOOD FOOD AND RECIPES
CAMPING RECIPES