NOTE: These are older versions of our desktop photos. When first posted, computers had smaller screens and high speed internet connections were rare. Most images posted on this page are lower resolutions than required by todays standards. The original photos are high resolution and we plan to replace and post images with the higher resolutions.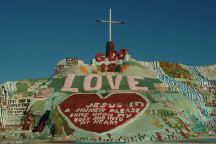 Salvation Mountain near Niland, CA
1200x800 pixels
DESKTOP WALLPAPERS
1600x1200
1200x800
1024x768
Some great desktop images when we have extra time to get them posted. From wild horses, old buildings, and bizarre landscapes, nothing is immune from becoming a piece of art, including garbage and junk cars.
SAMPLE IMAGES:



Palm Trees




Fence and Flowers




White Sand National Monument



Painted Rock Petroglyphs


Big Red Wasp
(Windshield of the Car)
1200x800 pixels