Mendocino National Forest has over
forty designated campgrounds.
VIEW LIST OF CAMPGROUNDS
Most of the campgrounds are free
WHITLOCK CAMPGROUND
Whitlock Campground is decent
and it is free. Picnic tables, metal firerings,
and vaulted toilet..
Elevation: 4300'
Number of Sites: 3, but only 2 tables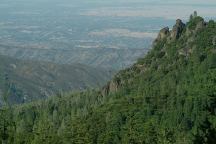 Views from Pine Point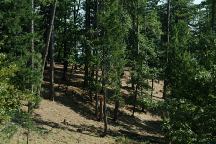 Pine Point. Camp on the ridge...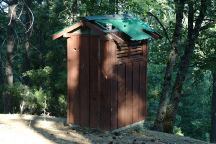 Old Outhouse on Pines Point
Bring your own toilet paper...
PINES POINT / HORSE CAMP
Just before Whitlock Campground, as
you come around the curve is Pine Point.
It is unmarked and more primitive than
Whitlock, but we like this place the best.
There is a little outhouse... no door or
toilet paper. Picnic table and metal firering.
There is a memorial sign that reads,

"HORSE CAMP
A place where John Searcy went
to hunt, play, rest, cut wood
and be with his family
We love you Daddy"
Pines Point / Horse Camp is not on the map.
The name "Pine's Point" is carved into
an old stump. The name "Horse Camp"
is from the memorial sign.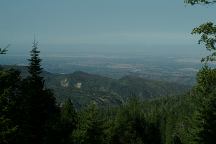 Views from Pine Point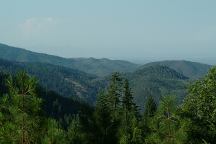 Views from Pine Point
Camping limit is 14 days at developed campgrounds
and 21 days at undeveloped areas. Dispersed camping
allowed throughout most of Mendocino National Forest.
IT IS YOUR RESPONSIBILITY TO KNOW
WHAT FIRE RESTRICTIONS ARE IN EFFECT
Each year is more stricter and the danger increased.
When FIRE RESTRICTIONS are in effect,
it is mandatory to have water, shovel and ax.
As an extra precaution bring a fire extinguisher.
Gloves are also a good idea...