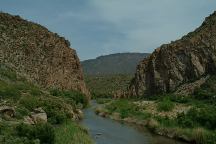 Salt River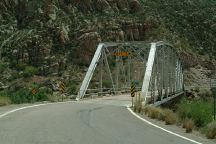 Bridge over Salt River
This area of Arizona has exceptionally
incredible landscapes. Organ Pipe cactus
stand guard against backdrops of rugged
mountains.
DIVERSION DAM
Free Camping and Recreation Area.
Primitive Campsites.
Vaulted toilets and garbage service.
14 day camping limit.
THANK YOU FOR OBSERVING THESE RULES
Parking only in designated areas.
Vehicles restricted to numbered roads,
parking lots and open river banks.
Overnight parking is permitted.
Camp away from parking lots.
No discharging firearms.
Pets must be on leash.
Eucalyptus Parking Area has some good
tent sites along the sandy banks of the
Salt River. RV's could park in the paved
parking area. There were too many people,
but it makes a good rest area.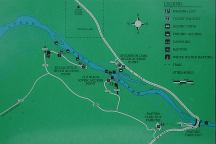 Map of Diversion Dam Recreation Area
The above map is incomplete, but gives
an idea of the layout of Diversion Dam
Recreation Area.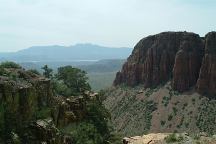 Highway 288 north from Salt River