Blue Mass Scenic Area is a good place to go
if you want privacy. It is 30-40 miles of dirt
roads through waste lands in the middle of
nowhere. Finally you arrive at the Blue Scenic
Mass Area to find some trees and shade. More
cows camp here than people and you have to
make your own spot.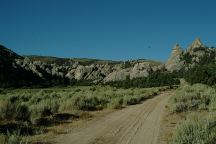 Blue Mass Scenic Area
There are a couple official Forest Service
campgrounds along Hwy 893. There were
a couple side roads leading to different creeks
and springs that sounded interesting and most
likely good camp spots.
DIRECTIONS:
From Eli, Nevada
Take Hwy 50 East about 27 miles.
Take Hwy 893 North until the road splits.
Follow the sign to Tippett.
At Tippett there is a sign pointing to Blue Mass
Scenic Area. Stay on this road about 20 miles
and there will be a side road with a small sign
marking the way.
From Hwy 93 turn east at Schellbourne
(Following the old Pony Express Trail 1860-1861)
Stay on the main road and you'll see the sign
pointing to Tippett. You could take the short
cut and follow the Pony Express Trail, while
it is a more primitive road, there are nice views
and points of interest.
ROAD CONDITIONS:
Mostly narrow dirt roads
The roads were extremely dusty.
Not recommended for RVs...
If exploring the area, you should have a detailed
map, very few roads have numbers or directions.
Check out Lincoln Highway 1913
(The First Transcontinental Automobile Route).
Also see: CURLEW VALLEY
Also see: GREAT BASIN NP
Also see: LAVA POINT CG
Also see: MEADOW VALLEY
Also see: MESA ROAD