Free campgrounds and camping
NEVADA CAMPGROUND DIRECTORY
SMOKE CREEK DESERT
SAND PASS ROAD
PARKER RESERVOIR
LATITUDE: N 40°35.565
LONGITUDE: W 119°46.067
(GPS at Jct. of Route 447 and Sand Pass Road)
LATITUDE: N 40°35.711
LONGITUDE: W 119°46.133
(GPS from Parker Reservoir)
Dispersed and Primitive Camping
PHOTO HERE
Parker Reservoir
PHOTO HERE
Campsite near Parker Reservoir
Dispersed camping along Parker Reservoir
The mosquitoes were heavy on Parker Reservoir
Deer in camp at Parker Reservoir.
Wide selection of birds, ect...
There are a couple dispersed campsites on
Sand Pass Road. Trees in the desert usually
means water and shade. Might be a old ranch
or homestead...
About a dozen cars passed by during the day. Mostly
ranchers and a couple hunters. The temperature was hot
and only crazy people would camp out here in summer.
Bring plenty of water and be prepared for desert conditions.
DIRECTIONS:
From Reno, NV
Take Hwy.445 north towards Pyramid Lake
From Gerlach, NV
Take Route 447 north about 9 miles
From Cedarville, CA
Take Route 447 south about 74 miles
Turn left on Sand Pass Road
ROAD CONDITIONS:
Maintained gravel surface.
Extreme dust in dry season
MILEAGE CHART:
(From Route 447 and Sand Pass Road)

Gerlach, NV
Reno, NV
Eagleville, CA
Cedarville, CA

9 miles
116 miles
59 miles
74 miles
PHOTO HERE
Pyramid Lake
Also see: SQUAW VALLEY RESERVOIR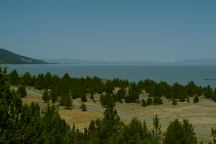 Road#73 towards Goose Lake
Camped here June 19, 2008
CAMPGROUND INDEX
Complete free campground listing


www.eugenecarsey.com
dispersedcampgrounds.com
Free campgrounds and camping
NEVADA CAMPGROUND DIRECTORY
SMOKE CREEK DESERT
SAND PASS ROAD
PARKER RESERVOIR