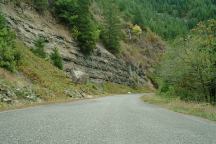 Smith River Road
DIRECTIONS:
From Eugene, take Hwy 126 to Crow Road
(at Shell Station just outside of town).
Take Crow Road to Smith River Road.
From Sutherlin / I-5 at Exit 136
Take Hwy.138 to Elkton
Take Hwy.38 west towards Florence
At Wells Creek take Wells Creek Road
15 miles to Vincent Creek Rec. Site
18 1/2 miles to Smith Falls Rec. Site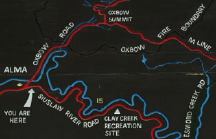 Siuslaw and Smith River Road System
ROAD CONDITIONS:
Narrow, paved mountain roads.
Can also be accessed from other directions
that involve narrow, gravel roads....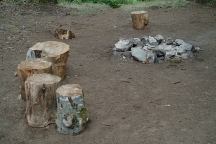 Smith River Falls Campground???
Lots of Blackberries on Wells Creek Road.
We've been here a couple times and there was always
one road that was blocked. This time there was a tree
across the road before Kentucky Falls. (2006)
When FIRE RESTRICTIONS are in effect,
all vehicles are required to carry:
- 1 gallon of water or 2 1/2 lb. fire extinguisher
- Shovel with 8" blade at least 26 inches long
Carrying an ax is recommended.
A pair of leather gloves are a good idea.
PHOTO HERE
Smith River Campground / Picnic Area
N 43°52.796
W 123°51.989
SMITH RIVER CAMPGROUND
The Forest Service map says this is a campground,
but the broken down sign said "Picnic Area". If you
do camp here, it is doubtful anybody would worry...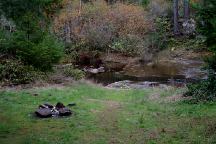 West Fork Smith River
N 43.50.300
W 123.44.945
WEST FORK SMITH RIVER
This camp is on the West Fork Smith River Rd.
(4 miles north from Smith River Road)
Water at Clay Creek BLM Recreation Site.
Most of the established BLM Recreation Sites
have fee campgrounds with drinking water.
Showers in Florence at the laundry...
Curves Laundromat
$2.00 in Quarters / 8 minutes
37th Street Laundry
$xx for xx minutes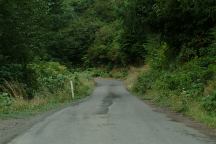 Road#24
DEAN CREEK ELK VIEWING AREA
Highway 38 a couple miles east from Reedsport
Never actually saw any elk here...