Free camping and campgrounds
MONTANA CAMPGROUND DIRECTORY
RED ROCK LAKES N.W.R.
UPPER LAKE CAMPGROUND
Dispersed and Primitive Camping
What makes this so great besides the lakes and
wildlife is the NATURAL SPRING WATER.
The water just flows out of a pipe in the ground
and is cool, clear and perfect.


Outhouses and Firepits.
Showers at the laundry in Ennis Montana,
About 50 miles north on Hwy 87 to 287.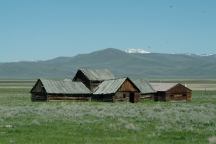 DIRECTIONS:
Road#509 about 50-70 miles west
from Yellowstone National Park.
CAMPGROUND INDEX
Complete free campground listing


www.eugenecarsey.com
dispersedcampgrounds.com
Free campgrounds and camping
MONTANA CAMPGROUND DIRECTORY
RED ROCK LAKES N.W.R.
UPPER LAKE CAMPGROUND