Free campgrounds and camping
IDAHO CAMPGROUND DIRECTORY
PALISADES RESERVOIR
CARIBOU NATIONAL FOREST
Dispersed and Primitive Camping
A good hangout. You can hear cars on
Highway 26, but it is still relaxing.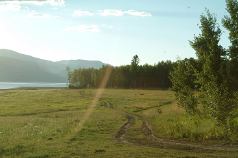 Palisades Reservoir
Stayed here August 4, 2005. We were on our
way to PASS CREEK, but it was starting to get
dark, so we pulled off the road and found this place.
DIRECTIONS:
Hwy.26 about 1/2 mile from the Idaho
and Wyoming state line is a pull out.
There is a dirt road that goes over
a hill and towards the reservoir.
Campsites along the reservoir
and hidden in the trees.
CAMPGROUND INDEX
Complete free campground listing


www.eugenecarsey.com
dispersedcampgrounds.com
Free campgrounds and camping
IDAHO CAMPGROUND DIRECTORY
CARIBOU NATIONAL FOREST
PALISADES RESERVOIR