Free campgrounds and camping
NEVADA CAMPGROUND DIRECTORY
OAK CREEK SUMMIT
HIGHWAY 93 NEVADA
Dispersed and Primitive Camping
Oak Creek Summit consists of two roadside
table areas on each side of the road where
you can camp. Not the best camping in the
world, but is convenient and easy to find.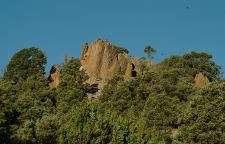 Oak Creek Summit
At Oak Creek summit look for Oak Creek Road.
The road is kind of rough, we camped about 1/4
mile up the hill. The lower site has picnic tables
scattered among the trees providing some good
shade spots on a hot day. There are garbage
cans and firepits.
You can hear the traffic on Hwy 93, good
thing there's not an extreme amount of cars
or trucks zooming by.
DIRECTIONS:
Hwy.93
About 9 1/2 miles west of Caliente.
Signs mark the roadside tables and
Owl Creek Summit.
Also look for a sign hidden in the bushes
that points towards Owl Creek Camp.
There are some camps along this road.
Also see: MEADOW VALLEY
Camped here 2003
Camped here Aug.28, 2005
CAMPGROUND INDEX
Complete free campground listing


www.eugenecarsey.com
dispersedcampgrounds.com
Free campgrounds and camping
NEVADA CAMPGROUND DIRECTORY
HIGHWAY 93
OAK CREEK SUMMIT